Transition day at the county courthouse
Holland takes office; Graeber becomes chairman; Tellefson says goodbye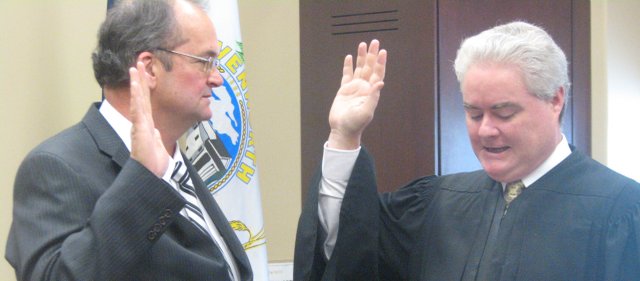 It may be a snow day for many people in Leavenworth County, but today was a day full of changes for the Leavenworth County Commission as the board received a new commissioner and named a new chairman.
Bob Holland took the oath of office, administered by 1st District Judge Dan Wiley, and was sworn in as the newest Leavenworth County Commissioner at 11:30 a.m. Monday.
A crowd made up of county officials and employees, friends and family gathered in the county commissioners' meeting room for the ceremony at the county courthouse in Leavenworth.
"I want to thank you all for coming today," Holland said to the audience after he was sworn in. "I want to thank my three daughters for their support through the campaign, and, of course, all my friends, who talked me into doing this."
Holland said he'd begun the process of learning about his duties as a county commissioner, and he knew he still had much to learn.
"I've enjoyed running for this office, and I'm looking forward to getting to work, and hopefully we can change a few things," Holland said.
When the new board met for the first time in the afternoon, Holland's first action as a commissioner was to nominate commissioner Clyde Graeber as the chairman of the board of commissioners. The motion passed, 3-0.
After Graeber took the helm of the meeting, he immediately got down to business as the commissioners tackled other issues for the new board, including setting its meeting schedule, asking for proposals for the official county newspaper and appointing commissioners to serve on various boards.
Holland will replace J.C. Tellefson as the 1st District commissioner, representing the northern part of the county.
Earlier in the morning, at about 9:25 a.m., Tellefson announced the final adjournment of the previous board of commissioners to applause from the other two commissioners and others in attendance.
It marked the end of Tellefson's four-year term in office. Shortly before the adjournment, Tellefson made a few thank-yous.
"I did want to say, 'Thank you very much,' " Tellefson said to the crowd that included Bob Holland, county clerk Janet Klasinski and Wanda Doty, executive secretary for the commissioners. "The people I want to say 'thank you' to are all here."
Tellefson acknowledged that he hadn't always made things easier for the people he had worked with.
"About a year ago, 18 months ago, you made a comment," Tellefson said, gesturing toward commissioner John Flower, "that it may be frustrating, but at the end of the day we do sort of walk out of here laughing a little bit, and that's probably the preeminent issue, that we do respect each other."
For more on the county commission, check this week's print editions of The Mirror and the Sentinel.