Five Questions: Breaking the ice
Melting products can carry some risk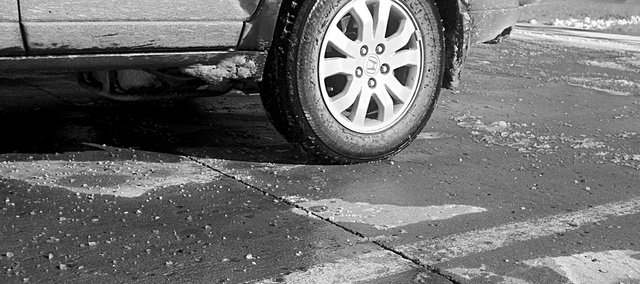 Kansas State University Research and Extension Service answers these questions about de-icers.
Q: What materials are used in ice-melting products?
A: There are five main materials that are used as chemical de-icers: calcium chloride, sodium chloride or salt, potassium chloride, urea and calcium magnesium acetate.
Q: What's the most popular?
A: Calcium chloride is the traditional product that has been used most often. It is one of the most frequently used materials for road and highway de-icing, and it is effective. It will transform ice into a slippery, slimy surface. This product is effective to about minus 25 degrees. Plants are not likely to be harmed unless excessive amounts are used.
Q: What about salt?
A: Sodium chloride is the least expensive material available. It is effective to approximately 12 degrees but can damage soil, plants and metals.
Q: Is something similar to vinegar also being marketed as a de-icer?
A: Calcium magnesium acetate, or CMA, is a newer product that is made from dolomitic limestone and acetic acid, the main compound found in vinegar. CMA works differently than other materials in that it does not form brine like salts, but rather helps prevent snow particles from sticking to each other on the surface. It has little effect on plant growth or concrete surfaces. The product works best when temperatures remain about 20 degrees.
Q: Are any of these de-icers better than the other?
A: All of these products are acceptable for use. Limited use of any of these products should cause little damage. Problems occur when de-icers are used excessively and there is not adequate rainfall to wash or leach the material from the area.