Bonner Springs wrestlers produce 4 champs at Mat Classic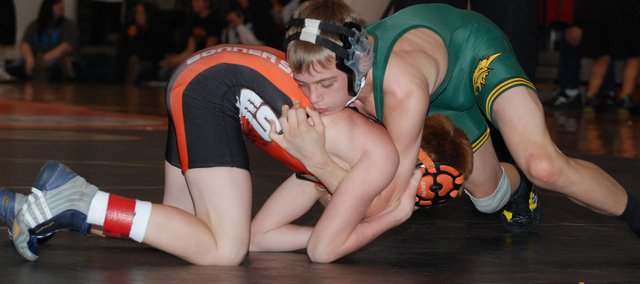 Bellevue (Neb.) East has long been the team to beat at the Dick Burns Mat Classic.
Photo Gallery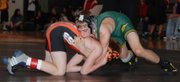 Dick Burns Mat Classic 2011
At this year's tournament, which took place Saturday at the Bonner Springs District P.E. Center, the host Braves gave their best shot before ultimately finishing second.
It was Bonner Springs' best showing at its home tournament in recent memory. Eight Braves medaled and four were individual champions.
Bellevue also had four champions and won the 13-team tournament with 230 points. Bonner Springs was second with 174. Eudora placed third with 140.
"I knew they'd be tough coming in," BSHS coach Brandon Jobe said. "Obviously we wanted to come out on top because it's our home tournament, but our guys battled tough today. They're really coming along.
"Still, at this point in the season I'm not as concerned with the wins and losses, but how they wrestled the matches and what they're doing in the matches. We're starting to do a lot of the right things, and it pays off … it pays off with the win."
Bonner Springs' four champions all controlled their final matches from start to finish.
Caleb Seaton began the title haul for the Braves at 125 pounds. He won his first three matches by pin before squaring off with Shawnee Mission Northwest's Ross Whitmore — the No. 3 wrestler in Class 6A — in the finals. Seaton scored a takedown midway through the first period and then scored on a near-fall for a 4-0 lead after the first period. Whitmore closed to within 5-3 midway through the third period before Seaton pulled away for an 8-4 decision.
Seaton improved his record to 17-3.
A few minutes later, Jonathan Blackwell stepped onto the mat for the 135-pound finals. The defending state runner-up pinned his way into the finals before facing an opponent who made him wrestle the full six minutes. Still, Blackwell had no problems against Blue Valley Southwest's Matt McWhorter. Blackwell scored a quick takedown and two near-falls for an 8-0 lead by the end of the first period. Blackwell went on to claim a 13-3 major decision.
Blackwell now is 17-3 this season.
Blackwell said he was pleased with the way he wrestled throughout the tournament.
"I just want to keep winning," he said. "Hopefully I don't lose anymore, because I've already lost three this year. I lost 11 last year, but three is disappointing for me this year."
Aaron Puckett delivered a championship at 140 pounds. After a first-round bye, he pinned two straight opponents in the first period before running into Lukas Bjorgo of BVSW in the finals. Puckett scored a first-period takedown and continued to control the match the rest of the way en route to a 7-2 decision.
Puckett now is 17-2 this season.
The Braves' final championship came at 145 pounds as Mark Hobson delivered a dominating performance. Hobson used a first-round bye and two pins to reach the finals. Once there, he was unable to record a pin against Bellevue's Dakota Oehn, but he put on a clinic of takedowns and near-falls instead. After scoring with a takedown and a near-fall in the first period, Hobson struck with a reversal and a near-fall in the second period. After a few takedowns in the third period he secured an 18-3 technical fall.
It was the biggest moment yet as a Brave for the transfer from Lawson (Mo.) High who improved to 15-2 after the tournament.
"I was confident," Hobson said of his expectations entering the tournament. "I mean, I don't want to be cocky or anything because that's not right, but I've been wrestling for 12 years. I know I can wrestle, but making the move from Missouri to Kansas was tough. I'm learning my riding skills a lot better now, and it was a good win coming out with a tech fall."
In addition to the champions, Josiah Seaton reached the finals at 103 pounds before finishing second. Three other Braves — 112-pounder Justus Seaton, 130-pounder Austin Cobb and 171-pounder Jared Clements — all finished third in their respective weight classes.
Billy Fratzel (119 pounds), Patrick Ballard (160 pounds) and Nick Clark (215 pounds) all came within one victory of medaling.
The Braves next compete Friday and Saturday at the Bobcat Classic at Basehor-Linwood. Jobe said it will be a great challenge for his team.
"Some of the tougher weights are where some of our tougher guys are, so we're going to go in and we're going to have to battle and see how we end up," Jobe said. "Hopefully we get some big wins."
BOBCATS' SEATON WINS
Basehor-Linwood's Sammy Seaton captured the lone title of the day for the Bobcats, and he led BLHS to a ninth-place finish in the team standings.
Seaton's title came in the 103-pound weight class. He needed just 54 seconds to pin Eudora's J.T. Howell in the first round, and then rolled to a 16-1 technical fall against Fort Scott's Cole Stewart in the semifinals.
The finals match was a family affair as Seaton squared off with his cousin, Josiah Seaton of Bonner Springs.
"It's a lot of fun," Sammy Seaton said. "I mean, he's family."
Sammy Seaton scored a takedown late in the first period and then slowly expanded his lead on the way to a 7-0 decision.
The pair squared off during a season-opening dual, and the BLHS sophomore won that match as well. This match was closer.
"(Josiah) gave a really good fight," he said. "Especially considering how much bigger I am than him."
Seaton was one of two BLHS wrestlers who medaled. The other medalist was 112-pounder Michael Torrez. Torrez was pinned in the semifinals by Bellevue's A.J. Thrower, but he bounced back with a 3-0 decision against Paola's Brian Ebeling before dropping a 2-1 decision to Bonner Springs' Justus Seaton in the third-place match.
Four other Bobcats came within one victory of reaching the medal matches. Antonio Ferro went 1-2 at 119 pounds, Dustin Williams was 3-2 at 145 pounds, Stephen Struzzo was 2-2 at 152 pounds and John Hopper was 1-2 at 160 pounds.
Basehor-Linwood competed without Symon Seaton, the top-ranked wrestler in the state in Class 4A at 135 pounds. The defending state champion missed the tournament with a wrist injury.