Tournament time at Basehor-Linwood
School staff prepared to work overtime to pull off back-to-back sporting events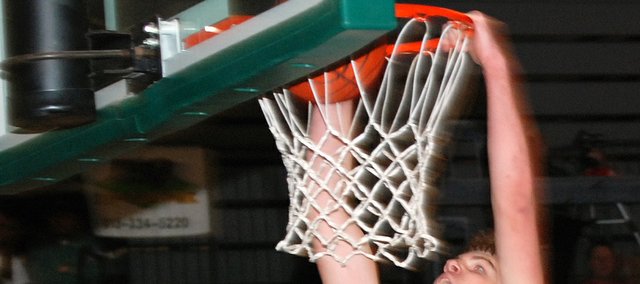 Student-athletes aren't the only ones at Basehor-Linwood High School who try to catch up on their rest during winter break.
The BLHS staff does the same.
Not only does the staff return to its duties in the classroom, administrative and maintenance roles as soon as January arrives, it also pulls the equivalent of two-a-day workouts for eight days straight.
That intense period begins Friday when Basehor-Linwood plays host to the two-day Bobcat Classic wrestling tournament. Once wrestling finishes late Saturday afternoon, preparation begins for the Bobcats' home basketball tournament that runs Monday, Jan. 17, through Saturday, Jan. 22.
BLHS athletics director Joe Keeler knows it's an exhausting period for the school's staff, but he said it's also a source of great pride.
"Events like this could not be possible without the help of the staff, the school and the community," he said. "They're a huge part of all of this running in an outstanding manner. Everyone's pretty much on the regular school schedule, and everyone takes a lot of pride in (these events).
"The help and support has been just incredible over the years. This will be our 11th year running these tournaments, and the support's just been fantastic."
This year's tournaments may be the most highly anticipated yet for the Basehor-Linwood community. Among their own wrestlers competing at the Bobcat Classic is defending state champion Symon Seaton. As for basketball, both the Basehor-Linwood boys and girls are ranked in the top five in the state.
"We have always had great competition," Keeler said of the tournaments, "but it helps immensely as far as the atmosphere of the tournament when your local teams are doing well and competing at a high level. That hare really created a very fun week for our community and our kids with our teams doing so well the last few years."
The Bobcat Classic wrestling tournament begins at 11:30 a.m. Friday at the BLHS gymnasium. Saturday competition will start at 10 a.m. Thirty-four schools and eight state-ranked teams are scheduled to attend. Class 5A No. 1 Lansing and 5A No. 3 Pittsburg will be in attendance; so will 4A ranked squads Andale (first), St. James Academy (third), Bonner Springs (eighth) and Columbus (10th); and 6A ranked teams Goddard (second) and Junction City (ninth).
In addition, out-of-state tams Blue Springs (Mo.), Glenwood (Iowa), Mountain Range (Colo.) and Oak Park (Mo.) will make the field even more challenging.
"It's excellent preparation for kids to go to a midseason tournament like ours and prepare themselves for state," Keeler said. "It's a great measuring stick for them to see where they're at and what they need to do. Traditionally, our tournament's been tougher than state because it's including multiple classes, powerful teams and out-of-state teams that adds a special flavor and makes it more competitive."
When the wrestling tournament ends on Saturday, the gym immediately will be transformed back into a basketball arena for Monday's first games of the Basehor-Linwood Invitational.
In addition to the Basehor-Linwood boys and girls, other schools sending both boys and girls teams will be Ottawa, Fort Scott, Park Hill (Mo.), Platte County (Mo.), St. Joe (Mo.) Benton and Pembroke Hill (Mo.). In addition, the Holton girls and Maryville (Mo.) boys will round out the tournament fields.
The BLHS boys are the defending tournament champions, and coach Mike McBride said he welcomes the strong competition — especially from teams from Missouri that the Bobcats normally wouldn't see.
"Platte County brings a good team. We have played them three years in a row, and all have been extremely close games," McBride said. "I am hoping to get at least two, if not three, really good games in the tournament."