Basehor-Linwood girls start fast, hold off Mill Valley in
KVL

showdown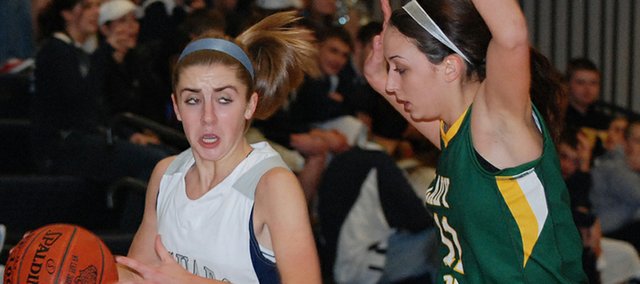 There was no question in Noah Simpson's mind that the Mill Valley girls basketball team would be a difficult opponent.
Photo Gallery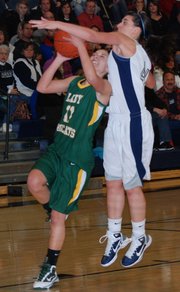 Basehor-Linwood girls 41, Mill Valley 31
Simpson, Basehor-Linwood's fourth-year coach, made it clear to his team that the youth-laden Jaguars would be plenty good. For one thing, sharpshooter Emily Altman was back. For another, first-year Mill Valley coach John McFall brought Hall of Fame credentials from his days as a boys coach.
The Bobcats heeded Simpson's warning and took the Jaguars seriously from the opening tip. The end result was one of their best first quarters of the season — as well as one of their best all-around performances Friday night at MVHS.
Basehor-Linwood 41, Mill Valley 31.
The Bobcats opened the game on a 14-4 run and led by as many as 16 points in the first half before fending off a strong fourth-quarter rally by the Jaguars.
"We talked about the fact that Mill Valley's very, very good and John McFall brings that to a whole new level. He's got those kids playing extremely well," Simpson said. "We talked about the importance of this game. Is it important as far as 4A? No. But is it important as far as league? Definitely.
"When we started the game we said there's four things we have to do: We have to hustle, have intensity, focus and heart. If we do those four things for 32 minutes we're going to be fine. And we did."
Defense set the tone for the Bobcats as they forced five first-quarter turnovers. Courtney Poe buried a 3-pointer on the second possession for an early 3-0 BLHS lead, but Mill Valley countered with a pull-up jumper from Emily Altman to make it 3-2.
Basehor unleashed an 11-2 run after that, scoring inside with Megan Bergstrom and from outside with a 3-pointer from Jamie Johnson. A steal by Bergstrom led to a layup by Johnson as the Bobcats went ahead, 14-4, before Mill Valley's Kelsey Strobel closed the quarter with a pair of free throws.
Basehor continued to accelerate in the second quarter. Bergstrom buried a 3-pointer from the top of the key on the first possession, and then Cara McCarty and Macyn Sanders added free throws. Another inside bucket by Bergstrom extended the Bobcats' lead to 22-6 with 5:40 to go in the half.
Mill Valley finally gained some traction with a pair of jumpers by Altman. Still, the Bobcats remained in control and carried a 25-12 lead into halftime.
The Bobcats made 9 of 13 field goals in the first half, including a 6-for-8 effort from Bergstrom.
The Bobcats' offense screeched to a halt in the second half, and only their defensive play kept them afloat. They made just 1 of 10 shots in the third quarter, but Mill Valley answered by hitting only 2 of 7 attempts. The Jaguars had pulled within nine points, but Courtney Poe was fouled at the buzzer and sank a pair of free throws to give BLHS a 29-18 lead entering the fourth quarter.
Mill Valley continued to chip away during the final period thanks to a spark provided by Mackenzie Conklin. After trading baskets on the first possessions, Conklin buried a 3-pointer that brought the Jaguars within 31-23 with 5:33 to go. On future possessions she made four free throws, the last two of which brought the Jaguars within 32-27 with 2:28 to go.
Basehor called a timeout, and promptly looked back to Bergstrom inside. Poe dished to Bergstrom for a power move and a lay-in that stretched the lead to 34-27 with 1:22 to go.
After a Mill Valley miss, the Jaguars were forced to foul. Poe hit 5 of 6 free throws down the stretch and Bergstrom added two more to put the game away.
Mill Valley made just 9 of 35 field goal attempts. Altman led the way with 11 points, and Conklin and Stephanie Lichtenauer added 7 apiece. The Jaguars (6-2 overall, 4-1 Kaw Valley League) next play at 7:30 p.m. Thursday at home against St. James Academy (5-3).
Basehor-Linwood made 12 of 28 shots and received a game-high 21 points from Bergstrom. Poe added 10 and Johnson scored 5. The Bobcats (6-1, 4-0) next play at 6 p.m. Monday in the first round of the Basehor-Linwood Girls Basketball Invitational.