Basehor boys hold off Mill Valley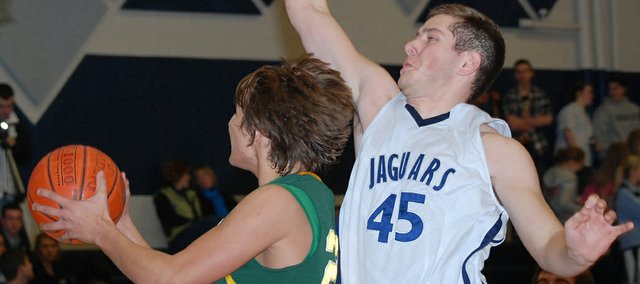 Basehor-Linwood's boys basketball team had grown bored with blowing out Kaw Valley League opponents.
Photo Gallery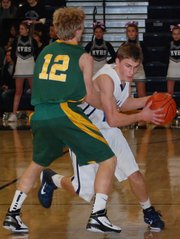 Basehor-Linwood boys 54, Mill Valley 44
Fortunately for the Bobcats, Mill Valley was happy to provide a serious test.
The Jaguars — who lost by 25 and 48 points to Basehor-Linwood last year — gave the Bobcats all they could handle for 30 minutes before BLHS pulled away for a 54-44 victory Friday night at MVHS.
The teams traded baskets throughout the first quarter and battled through four ties and five lead-changes before Basehor-Linwood forged ahead 20-18.
Mill Valley forced three straight turnovers to start the second quarter and used a 6-0 run to take a 24-20 lead. Nathan Stacy, Taylor Reinoehl and L.J. Hatch all scored during that surge.
A 3-pointer by Colin Murphy pulled BLHS within a point with 5:06 left in the quarter, but Mill Valley never surrendered the lead until another Murphy trey sent the game into halftime tied at 30-30.
Basehor-Linwood appeared to take control of the game as it opened the third quarter on a 13-2 run during the first six minutes, but a 3-pointer by Sam Carroll and a Stacy layup late in the quarter brought Mill Valley within 43-37 entering the final quarter.
The Bobcats attempted to shorten the game with a few long, patient possessions early in the fourth quarter. Still, it wasn't enough to shake the Jaguars. Reinohel drove and dished to Mark Biesma for a layup with 5:55 to go and cut the deficit to just four at 43-39.
Evan Theno answered with a 3-pointer for Basehor-Linwood, but another Biesma layup kept the Jaguars close.
The Jaguars were within five points at 48-43 with less than two minutes to go, but a put-back by Ryan Murphy gave the Bobcats some much-needed breathing room. After two missed free throws by Biesma, BLHS countered with a freebie from Ben Johnson. Colin Murphy went 3-for-4 from the stripe in the closing seconds to put the game away.
Ryan Murphy scored 21 points and Colin Murphy had 17 as Basehor-Linwood improved to 7-0.
Biesma scored 18 and Stacy added 10 for Mill Valley, which dropped to 4-3.
For a full recap, check back later this weekend.