BLHS

boys hold off stiff challenge from Mill Valley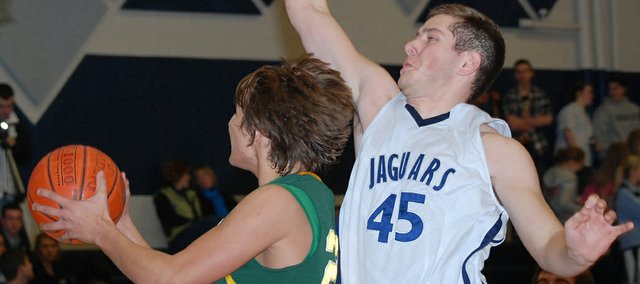 Basehor-Linwood's boys basketball team had grown bored with blowing out Kaw Valley League opponents.
Fortunately for the Bobcats, Mill Valley was happy to provide a serious test.
Photo Gallery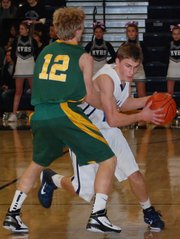 Basehor-Linwood boys 54, Mill Valley 44
The Jaguars — who lost by 25 and 48 points to Basehor-Linwood last year — gave the Bobcats all they could handle for 30 minutes before BLHS pulled away for a 54-44 victory Friday night at MVHS.
Basehor-Linwood coach Mike McBride said he and his team welcomed the challenge and benefited from the game.
"The simple fact of the matter is I've got our community buying into that we just want to have fun. We want to work as hard as we can possibly work, and we can go into a game that's maybe a coin-flip game and maybe whatever else, but we want to have fun. And to be honest with you, after a while 30-, 40-point wins aren't as much fun," McBride said. "I'm not trying to downplay other teams, but yeah, I want other teams to bring it."
The Jaguars most certainly did Friday night.
The teams traded baskets throughout the first quarter and battled through four ties and five lead-changes before Basehor-Linwood forged ahead 20-18.
Mill Valley forced three straight turnovers to start the second quarter and used a 6-0 run to take a 24-20 lead. Nathan Stacy, Taylor Reinoehl and L.J. Hatch all scored during that surge.
A 3-pointer by Colin Murphy pulled BLHS within a point with 5:06 left in the quarter, but Mill Valley never surrendered the lead until another Murphy trey sent the game into halftime tied at 30-30.
Basehor-Linwood appeared to take control of the game as it opened the third quarter on a 13-2 run during the first six minutes, but a 3-pointer by Sam Carroll and a Stacy layup late in the quarter brought Mill Valley within 43-37 entering the final quarter.
The Bobcats attempted to shorten the game with a few long, patient possessions early in the fourth quarter. Still, it wasn't enough to shake the Jaguars. Reinohel drove and dished to Mark Biesma for a layup with 5:55 to go and cut the deficit to just four at 43-39.
Evan Theno answered with a 3-pointer for Basehor-Linwood, but another Biesma layup kept the Jaguars close.
The Jaguars were within five points at 48-43 with less than two minutes to go, but a put-back by Ryan Murphy gave the Bobcats some much-needed breathing room. After two missed free throws by Biesma, BLHS countered with a freebie from Ben Johnson. Colin Murphy went 3-for-4 from the stripe in the closing seconds to put the game away.
Mill Valley coach Justin Bogart said he was disappointed with the loss, but he was pleased with how hard his team played. That's something he said the Jaguars are turning into a habit this season.
"Our guys played their tails off tonight," he said. "I'm disappointed for them because they've given us that effort. They are becoming a real team, and you still need a win to cement all that — and we didn't get that, so we're disappointed in that — but the effort was outstanding.
"You have to play with great effort if you want to compete with the caliber of team that we did. We had a chance to measure ourselves tonight, and we stood tall."
Ryan Murphy scored 21 points and Colin Murphy had 17 as Basehor-Linwood improved to 7-0. The Bobcats next play Tuesday in their home tournament.
Biesma scored 18 and Stacy added 10 for Mill Valley, which dropped to 4-3. The Jaguars next play Thursday at the Saints Classic.