Eight Wonders of Kansas to have exhibit at Eisenhower Presidential Library in Abilene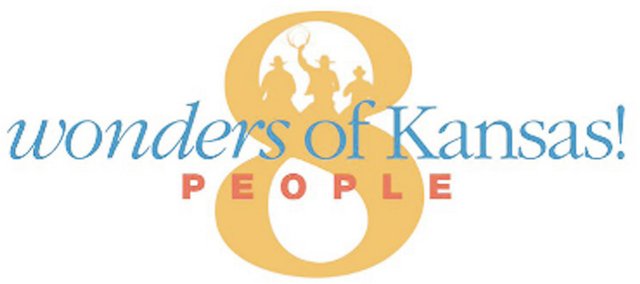 The Eisenhower Presidential Library in Abilene and the Inman-based Kansas Sampler Foundation are partnering to display the 8 Wonders of Kansas in an exhibit designed to help celebrate Kansas' sesquicentennial in 2011.
The exhibit will open to the public on Kansas Day, which is Saturday, Jan. 29, and close Sept. 5. There is no admission charge. The library, 200 SE Fourth St. in Abilene, will be open 9 a.m.-4:45 p.m. each day.
Displays will feature the top 8 Wonders in the contested rural culture element categories of architecture, art, commerce, cuisine, customs, geography, history, and people, plus the overall 8 Wonders of Kansas. The additional 16 finalists in each contest will be recognized.
Some of the artifacts that will be shown include a spacesuit from the Kansas Cosmosphere, a full Buffalo Soldier uniform from Fort Leavenworth, John Steuart Curry's paint palette, rolling pins from MarCon Pies in Washington, a place setting from Brookville Hotel, tools to dress post rock from the Post Rock Museum in LaCrosse, shoes and a helmet worn by Amelia Earhart, and a dice game from the original Long Branch Saloon, Boot Hill Museum, Dodge City.
"Because of the vision of Director Karl Weissenbach, tens of thousands of people will get to see exhibits that feature some of Kansas' best found in unincorporated towns and our largest cities," foundation director Marci Penner said. "In one fantastic venue, the focus will be on the diversity and highlights of Kansas. This exhibit will no doubt inspire an increased enthusiasm to explore Kansas."
A reception for the exhibit and the premier of the 8 Wonders of Kansas Guidebook will be from 2-4 p.m. April 16 at the Eisenhower Library. The public is welcome.
The following is a list of the top 8 Wonders from each category. Each will be represented with an artifact, photography, and information.
OVERALL 8 WONDERS
Big Well, Greensburg
Castle Rock/Monument Rocks, Gove County
Cheyenne Bottoms/Quivira National Wildlife Refuge, Barton and Stafford counties
Eisenhower Presidential Library and Museum, Abilene
Kansas Cosmosphere and Space Center, Hutchinson
Kansas Underground Salt Museum, Hutchinson
St. Fidelis Church (Cathedral of the Plains), Victoria
Tallgrass Prairie National Preserve (Flint Hills), Chase County
ARCHITECTURE
Chase County Courthouse, Cottonwood Falls
Cooper Barn, Colby
Fromme-Birney Round Barn, Mullinville
Holy Cross Church, Pfeifer
Kansas State Capitol, Topeka
Lebold Mansion, Abilene
Ness County Bank, Ness City
Seelye Mansion, Abilene
ART
Birger Sandzen, Lindsborg
Blackbear Bosin's Keeper of the Plains, Wichita
Blue Sky Sculpture, Newton
Charlie Norton's Buffalo Bill Bronze Sculpture, Oakley
Garden of Eden and Grassroots Art Mecca, Lucas
Gordon Parks, Fort Scott
John Steuart Curry Murals, Topeka
St. Mary's Catholic Church, St. Benedict
COMMERCE
Big Brutus, West Mineral
Brant's Meat Market, Lucas
Frontenac Bakery, Frontenac
Hemslojd, Lindsborg
MarCon Pies, Washington
Moon Marble Company, Bonner Springs
Stafford County Flour Mills, Hudson
Vonada Stone Company, Sylvan Grove
CUISINE
Bobo's Drive In, Topeka
Brookville Hotel, Abilene
Cozy Inn, Salina
Crawford County Fried Chicken, Crawford County
Free State Brewing Company, Lawrence
Guy and Mae's Tavern, Williamsburg
Hays House Historic Restaurant and Tavern, Council Grove
WheatFields Bakery Cafe, Lawrence
CUSTOMS
Bringing musicians together, Cottonwood Falls
Chanting a school fight song, Lawrence
Clicking your heels three times... Liberal and Wamego
Commemorating Veterans Day, Emporia
Displaying an ethnic handicraft, Lindsborg
Ordering a soda fountain treat, statewide
Riding a carousel, Abilene and Leavenworth
Using post rock for fencing, Smoky Hills region and LaCrosse
GEOGRAPHY
Alcove Spring, near Blue Rapids
Coronado Heights, near Lindsborg
Four-state Lookout, White Cloud
Gyp Hills Scenic Drive and Gypsum Hills Scenic Byway, Barber and Comanche counties
Konza Prairie, Manhattan
Maxwell Wildlife Refuge, near Canton
Mushroom Rock State Park, Ellsworth County and Rock City, near Minneapolis
Pillsbury Crossing, near Manhattan
HISTORY
1930s Dust Bowl Days to Gas Exploration, Historic Adobe Museum, Ulysses
Boot Hill Museum and Historic Dodge City, Dodge City
Council Grove, a Santa Fe Trail National Landmark town
Fort Scott National Historic Site, Fort Scott
Historic Fort Leavenworth, Fort Leavenworth
Historic Fort Riley, Fort Riley
Kansas Museum of History, Topeka
Kanza Tribe and Lewis & Clark's Independence Creek, Atchison
PEOPLE
Amelia Earhart, Atchison
Buffalo Soldiers, Fort Leavenworth
Carry A. Nation, Medicine Lodge
Emil Kapaun, Pilsen
George Washington Carver, Minneapolis and Beeler
James Naismith, Lawrence
Martin and Osa Johnson, Chanute
William Allen White, Emporia