Basehor-Linwood district prepared for Brownback's budget plan
Officials still disappointed with funding cuts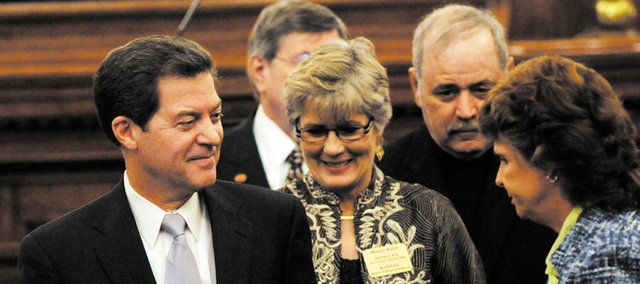 Basehor-Linwood school officials had planned for major state budget cuts for this and next year, superintendent David Howard said. But that makes the aid reductions in Gov. Sam Brownback's proposed budget no less staggering.
Take your pick of the figures comparing the proposed 2011-12 base state aid for the school district with the amount of aid two years ago — they all look grim, Howard said.
The difference amounts to a reduction of more than $650 per pupil, a cut of $1.8 million total, a decline of nearly 15 percent or the equivalent of a trip back in time to 1999-2000 funding levels.
"Even though we knew it was coming, it's just a little disheartening," Howard said Friday.
The proposed funding cuts in Brownback's budget would lead to a reduction of about $207,000 in base state aid for the district during the current 2010-2011 school year, plus a further cut of about $433,000 for the 2011-2012 school year, according to estimated figures from the Kansas Department of Education.
Because the Basehor-Linwood district planned for future funding reductions while making cuts during the last two years, Howard said, officials plan not to lay off any more staff or cut any student programs because of the proposed budget. Some small growth in student enrollment has also helped.
But if funding does not pick back up for future school years, the state cuts will result in changes in the classroom, he said.
"If it continues, make no mistake: It will affect student achievement," Howard said.
He said he hoped the economy would turn around and allow the state to restore some of the lost funding, though, which would allow the district to get through the downturn with no further cuts.
Brownback's proposed budget, released late last week, would reduce per-pupil base state aid to $3,937 for the current school year, a reduction of $75. It would further cut the aid by $157 to $3,780 for 2011-12. The proposed cuts would help the state overcome a projected $550 million revenue shortfall, resulting largely from expiring federal stimulus funds.
That reduction of $232 per pupil, which amounts to a 5.8 percent reduction from the previous amount of aid, would cause the district to lose about $640,000 from its annual budget in total. By the end of the 2011-12 year, the school district would have lost about $1.8 million in annual funding during a span of four years, Howard said.
Those were the kinds of numbers district leaders were prepared to have, Howard said, when they decided to made numerous budget cuts during the past two school years.
The district has laid off the equivalent of five full-time teachers and administrators, increased student fees and eliminated several unfilled classified staff positions, among other measures.
"We've been planning for this date," Howard said.