Four-peat: Basehor-Linwood claims another tourney title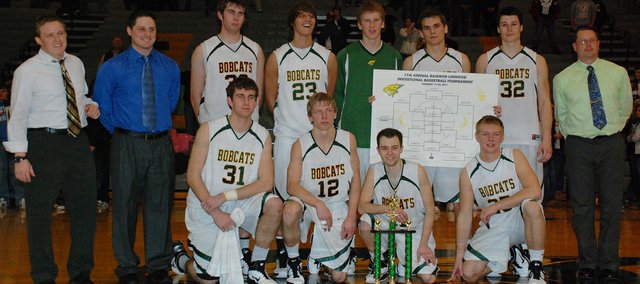 Basehor-Linwood coach Mike McBride said he felt a little bit like a football coach during the 53-45 victory over Park Hill (Mo.) in the championship game of the Basehor-Linwood Boys Basketball Invitational.
The physical nature of the game felt more like it should be played on a turf field in the fall.
The two teams were whistled for 49 fouls and shot 54 free throws between them. Throughout the game, players dove on the ground for loose balls and hacked one another for rebounds.
Colin Murphy left the game with an injury 30 seconds into the third quarter and did not return. In his absence, Basehor-Linwood players stepped up and won the game.
While the physical nature of the game might not have been the pace the team wanted to play, the Bobcats maintained the lead most of the game and didn't allow Park Hill to cut the lead to fewer than three points.
Late in the fourth quarter, Park Hill cut the lead to 40-36 on a 3-pointer. Moments later it pulled within 41-38 with a pair of free throws. The Bobcats, though, were able to maintain the lead the rest of the game. Each time that Park Hill closed the scoring gap, Basehor-Linwood rebuilt the lead.
The team made 4 of 6 foul shots late in the contest to fend off Park Hill's attempts to cut the lead by fouling and hoping the opponent would miss foul shots.
The Bobcats had three players score in double figures. Ben Johnson, who played big in Murphy's absence, finished with 12 points. Ryan Murphy finished with 12 points as well, earning Tournament MVP honors. Evan Theno, who protected the ball against pressure from Park Hill in the front court throughout the game, finished with 11 points.
For Park Hill, Chris Nsenki finished with 12 points and Dearis Flint scored 13 points. Connor Farmer scored 9 points and Anthony Walter finished with 8 points.
Basehor-Linwood will play at Lansing on Friday.