BLHS

completes 4-peat
Basehor-Linwood boys use physical performance to win home tournament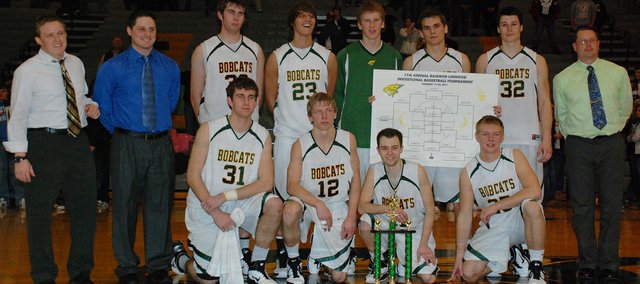 Basehor-Linwood coach Mike McBride said he felt a little bit like a football coach during the 53-45 victory against Park Hill (Mo.) Saturday in the championship game of the Basehor-Linwood Basketball Invitational.
Photo Gallery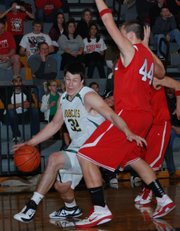 Basehor-Linwood boys 53, Park Hill (Mo.) 45
"I had a lot of fun tonight, but it was more like a football game," McBride said. "It shows how much our kids want to win. Our kids could have folded under the adversity tonight. Austin Laing leaves the game with a dislocated finger and Colin (Murphy) gets injured early in the third quarter and doesn't return."
Yes, in a way, the game was another test for a team that halfway through the regular season has passed each one of them.
The Park Hill test focused on physical play.
The two teams were whistled for 49 fouls and shot 54 free throws between them. Throughout the game, players dove on the ground for loose balls and hacked one another while going for rebounds.
Colin Murphy left the game with a head injury 30 seconds into the third quarter and did not return. In his absence, Basehor-Linwood players found a way to win the game after the halftime score was 23-17.
McBride said his players were concerned when Murphy left the game, but he was pleased that so many different players stepped up to fill the void.
Guard Evan Theno, Laing and Steyr Stubenrauch were steady handling the basketball. Theno brought the ball up with ease most of the game, and didn't have many turnovers. Theno, at 5-foot-7, was tough enough to draw charges against bigger guards and at times dribble in for layups.
On the interior, Basehor-Linwood post players like Ryan O'Donnell, Austin Stubbs and Ben Johnson came up with big rebounds and points in the game.
After Murphy's departure, Johnson scored six of his 12 points in the third quarter. He led the team on a 10-3 run to start the third quarter. Basehor-Linwood led 37-25 at one point in the quarter before Park Hill's Dearis Flint made a three-point play to make it a 37-28 lead entering the fourth quarter.
In the final quarter, Park Hill cut the BLHS lead to four points numerous times, but each time the Bobcats opened it back up.
Early in the fourth quarter, Park Hill cut the lead on a 3-pointer by Nathan Wilson.
On the Bobcats' next possession, Ryan Murphy missed three consecutive put-back attempts and was fouled on the final follow-up shot. He finally drew a foul and made one of two free throws to make it a 41-36 game.
Park Hill answered with a pair of free throws from Anthony Walter on its next possession.
Basehor-Linwood countered with a basket by Laing — who had returned to the game following a hand injury.
Park Hill answered with a field goal to make it a 43-40 game.
From there, Basehor-Linwood found Ryan Murphy for back-to-back baskets and then used a series of free throws to put the game away.
When it was over, McBride likened it a substate tournament type of game.
"That is postseason ball right there. We do not need to worry about the pressure, we know we can go in and play a physical game now," he said.
Ryan Murphy, who was the Tournament MVP, said all the fouls called kept the game from having a flow to it.
"It was a tough game, and there was no groove to it at all," he said.
Johnson and Ryan Murphy led the Bobcats with 12 points apiece and Theno added 11.
Dearis Flint led Park Hill with 13 points and Chris Nsenki added 12.
Basehor-Linwood next plays at 7:30 p.m. Friday at Lansing.