Bonner library to discuss Kansas books-to-films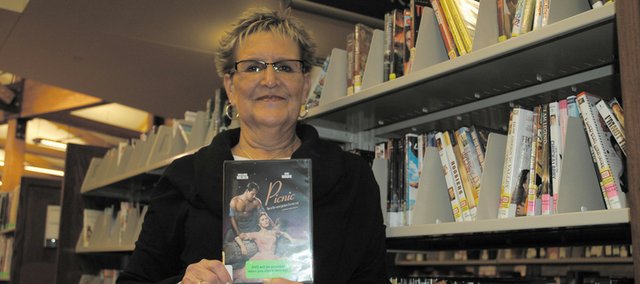 When Vicky Wheeler watches the 1955 movie "Picnic," she sees several familiar faces.
In scenes with a barber shop quartet, the current Bonner Springs resident sees her childhood best friend's father among the singers. When the townspeople find a lost little boy in one scene, she sees another friend's brother.
And her mother told her if she looked closely in a scene with children with balloons, she would even see herself.
"I can't even pick myself out of it, but that's what my mother always used to say," Wheeler said. "It lasted that long, folks, believe me," she adds, snapping her fingers to demonstrate her screen time.
Wheeler's connection to the movie is due to some portions that were filmed in her hometown of Hutchinson and nearby Halstead. Local residents were used as extras right next to stars William Holden, Kim Novak, Cliff Robertson and Rosalind Russell, especially for the Labor Day Picnic scene, which was shot during Halstead's actual city picnic.
"It was a big deal that Kim Novak and William Holden and Rosalind Russell were in Kansas," Wheeler said. "There were people driving (into town) to be able to see all these people… Everyone in town new about it. They were shooting a movie in Kansas. They didn't do stuff like that in Kansas."
Which is why Wheeler, a library board member, was excited to learn the film it was selected for the Bonner Springs Library's "Read, Watch, Discuss" adult book discussion group, which the library is tying into Kansas' 150th anniversary by choosing books set in Kansas that were made into movies.
Kim Beets, library director, said the book-to-movie discussions came about in part because her friend, Kaite Mediatore Stover, is writing a book on book-movie discussion groups.
Stover, a librarian for Kansas City, Mo., already has such a group at her library but wanted to see how it would work at a small library as research for her book.
"So I kind of offered us up as guinea pigs," Beets said. "She has come here and led discussions and programs before, and she's great – our patrons really enjoy her."
Deciding to tie in the state's birthday, Beets began researching books based in Kansas that were also made into movies. Several copies of the books would be available at the library for check-out beginning about a month before the discussions, which would include a potluck dinner and a viewing of the movie.
For those who can't come to the screenings, the library also has two copies of each movie.
The discussions will begin at 5:30 p.m. Feb. 22 with a viewing of one of the most widely-known Kansas-based books and movies, "The Wonderful Wizard of Oz" by L. Frank Baum, copies of which are now available for check out.
"We kind of started talking about how 'The Wonderful Wizard of Oz' really wasn't meant originally as a children's book. It does have all these really adult themes in it, like war, poverty and politics," Beets said.
The next book and movie will be "Paper Moon," which was originally published as "Addie Pray" by Joe David Brown, with the discussion set for March 22. "Picnic," based on a play by William Inge, will be the last in the series on April 26.
"They're great books and they're great movies," Beets said. "Whenever you read a book that's been made into a movie, one of the first things you start talking about is 'which was better? Did the movie turn out like the book?' It's a great source of discussion."
Beets didn't learn of Wheeler's connection to "Picnic" until she had already chosen the movies and was discussing them with the library board. Wheeler has yet to read the Inge play, but she gave her whole-hearted approval of its selection for the series.
"I love that movie; it's a great movie," she said. "And not just because it's in Kansas; it's just a good, old movie."