Hero in fatigues
Fort Leavenworth soldier helps woman with
MS

episode on road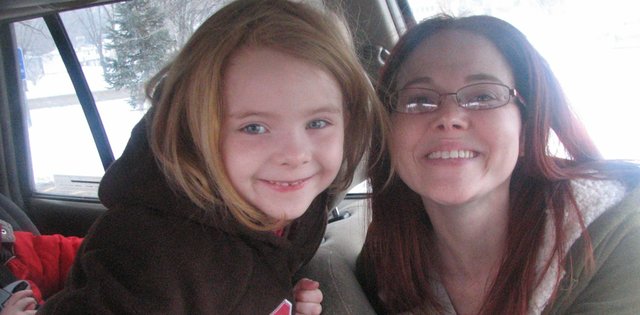 Amanda Dearinger lay her head on the steering wheel.
Her eyes closed, her head spun, and her SUV was stopped, hazard lights blinking. Her 6-year-old daughter and 2-year-old son sat in the backseat.
She was three miles away from Basehor Elementary School, where she was taking her daughter, Olivia, to kindergarten. But she didn't know how she would get Olivia there, as her head swirled with the dizziness that kept her from seeing straight and her terror at the thought of slipping into the other lane and hitting a car going the opposite direction at 55 miles per hour.
That was when Olivia told her there was a man at Amanda's window, a man in a blue pickup truck wearing military fatigues. This man, whom Amanda still knows only as "Rick," would save the Dearingers' day and possibly their lives, and more than a month later she still has not been able to find him and thank him properly.
•••
Amanda Dearinger was diagnosed with multiple sclerosis about five years ago, and she could tell when she awoke on Tuesday, Dec. 14 that she was having an MS episode.
MS, a neurological disease, affects different people in different ways, according to the National Multiple Sclerosis Society.
For Dearinger, an MS episode means vomiting, debilitating dizziness and vision problems. She only experiences an episode about once per year now, she says, because of medication she takes in the form of a shot she gives herself every day.
This episode came on a morning when her husband had left for work at Procter & Gamble in Kansas City, Kan., at 5 a.m., and all the family members she knew were at work, as well. Though the Dearingers plan to move to Basehor soon, the family lives in Leavenworth, which makes for a 20-minute drive to take Olivia to Basehor Elementary each morning.
Amanda didn't know what else to do, so she made a decision that she now knows she shouldn't have, she said: She would pack up both kids and make the drive to Basehor.
"Next time, she's going to have to miss school that day," Dearinger said, "because there will be no driving that day."
As usual, she took county roads southward to Basehor rather than Kansas Highway 7. By the time she got to the intersection of 155th Street and Fairmount Road, she couldn't drive any farther, terrified she was going to hit a car going the opposite way.
"I had to stop," Dearinger said. "I was so dizzy. I had to stop."
She pulled onto a stretch of roadway off the southeast corner of the intersection, put her head down and closed her eyes, and put her hazard lights on. She waited for about five minutes, not sure what else to do.
Then Olivia told her a man in a truck had pulled up alongside them, his window across from Amanda's.
•••
The man was heading north on 155th toward Fort Leavenworth, where he said he worked. He said his name was Rick. Amanda was too dizzy to read the last name sewed onto his fatigues, she said.
She tried not to cry, but the tears still came as she told him she had MS and was dizzy, and she was trying to get her daughter to school.
"He said, 'I can take her to the school for you if you would like me to, or I can follow you to the school,'" Dearinger said.
She was wary of sending her daughter to school with a stranger, so she asked him to follow. She called her mother-in-law, Debbie Dearinger, who works in the front office at BES, and told her they would probably be late. She kept her hazards blinking and started driving slowly south on 155th, 35 miles per hour with a speed limit of 55.
"What I started out doing was not safe at all, for not only the kids but for me, too," Dearinger said. "So it made me feel a little bit safer, especially knowing that he was a soldier and he was wearing fatigues."
As Amanda steadily drove south, she looked different than she had before Rick had been following her, Olivia said.
"She didn't feel sick anymore," Olivia said.
As the start of school at 8:55 a.m. approached, Debbie Dearinger, worried, stepped outside the school's front doors every few minutes to look out at the parking lot and see if Amanda had arrived yet.
It took just about five minutes to get the rest of the way there. They pulled up just before 8:55 — on time. Debbie came out to take Olivia inside, stopping to give Rick "the nicest hug," Amanda said.
"I was very appreciative that he took the time to follow her down here and cared enough to do it," Debbie said. "You don't find people who would do that, simple as that."
Rick came back up to Amanda's window and told her he could follow her back home on his way to Fort Leavenworth. She said she wanted to wait and rest for a while.
"He said, 'Can I pray with you?'" Amanda said. "And I said, 'Yes, please.'"
She can't remember what he said in his prayer, she said, but she remembers that her dizziness had left within 30 minutes afterward — something that doesn't usually happen until she takes some emergency medication, she said.
"It seriously was a half an hour, and even before I got a prescription or anything, the dizziness was gone, after he prayed with me," she said. "That was wonderful."
•••
After praying with her, Rick left, off to work at the fort. Amanda still doesn't know his last name, where he lives or if he was late to work that day.
After the dizziness lifted, she went to her sister-in-law's house in Basehor, and by the afternoon her neurologist had given her a prescription for emergency medication.
In the days that followed, she called staff at the fort, asking how she could find and thank the man who helped her.
Rebecca Steed, a Fort Leavenworth spokeswoman, said the staff couldn't identify the man, but suggested she write a letter to the Fort Leavenworth Lamp newspaper. She did just that, and it was published later that month, but still not response came.
"I honestly didn't figure I would hear anything from it," Amanda said, "but I really just wanted to tell him 'Thank you, so much.'"
Olivia said she knew what she would tell Rick if she could see him again: "Thank you for helping my mom."
They have not had that chance, but Amanda was left with a lasting impression of Fort Leavenworth and its staff.
"I think it has to be a priority, in their job description, to work at the fort," she said. "They have to be the nicest people you've ever met."
Debbie Dearinger choked up as she recalled the man who helped her daughter-in-law.
"Just faith in humanity," Debbie said, describing the feelings sparked by that day. "That someone's watching after my family."