Kasselman resigns after 15 years as Bonner Springs football coach
Longtime
BSHS

 leader guided program to five state playoff appearances, 65 victories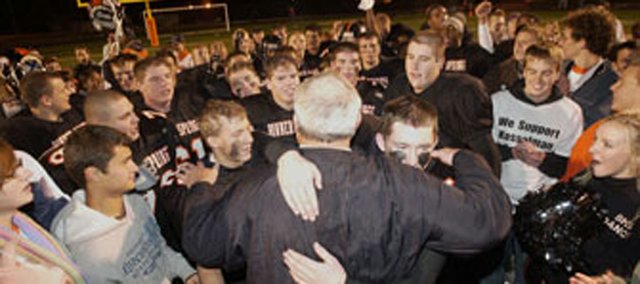 Four years ago, Bonner Springs High School football coach Lew Kasselman was forced to wait for more than two months to find out if he'd retain his coaching position.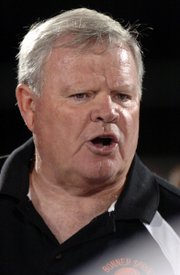 A clause had been added to his coaching contract for the 2006 season requiring the Braves to win at least five games or risk having Kasselman's contract terminated. The Braves finished 3-6, including a dramatic upset of Turner in the season finale. Kasselman ultimately was retained as the Braves' coach.
At the Jan. 18 USD 204 Board of Education meeting, Kasselman officially left the sideline behind when his letter of resignation was accepted by the board.
Kasselman had been the Braves' head coach for 15 seasons.
"I can't really talk about personnel issues, but after we came back from winter break he turned in his letter of resignation to me," BSHS activities director John Hilton said. "I forwarded it over to (principal Joe) Hornback, and he sent it down to the central office. At the last board meeting they approved the resignation."
Kasselman could not be reached for comment by press time.
Kasselman's reasons for stepping down were unclear, but Hornback said the coach's resignation didn't come as a shock.
"We had kind of heard all season that he'd told opposing coaches that he was thinking about retiring after the year and stepping down, so it wasn't a huge surprise," Hornback said. "Coach has been here a long time and done a lot for our community, and we're happy he made a decision he felt good about."
Hornback said Kasselman's letter of resignation only indicated he was stepping down from coaching.
"It didn't say anything about teaching," he said. "I hope he would (continue teaching at BSHS), because Lew has been here a long time and he's been so good for this community."
The school's website lists Kasselman's classes as biology and integrated science.
Prior to his time at BSHS, Kasselman taught and coached in New Mexico and Colorado during the 1970s. He moved on to the college ranks in 1980 when he became the defensive coordinator at Dodge City Community College. From there, he spent the 1982-1985 seasons as the defensive coordinator at West Texas State University.
Kasselman arrived in Bonner Springs in 1985 to work in private business. He served one term on the Bonner Springs City Council and also served as the president of the Bonner Springs-Edwardsville Chamber of Commerce before leaving private business behind to teach and coach again.
Kasselman served as Bonner Springs' defensive coordinator from 1991-1995 before being promoted to head coach in 1996. At that time, the Braves had lost 21 straight games.
BSHS posted a 7-2 record in Kasselman's first season. Then, in 1997, the Braves went 6-4 and advanced to the state playoffs. It was the first time since 1982 that the program had been to the playoffs or had back-to-back winning seasons.
Bonner Springs also advanced to the playoffs in 2002, 2003, 2007 and 2010. The 2002 squad went 6-5 and reached the state quarterfinals. The 2007 squad posted an 8-2 record — the best ever for a Kasselman-coached team.
The Braves posted losing records during each of the past three seasons, going 4-5 in 2008, 3-6 in 2009 and 4-6 with a playoff appearance in 2010.
Kasselman's 15-year record at BSHS was 65-81.
The search for Kasselman's replacement is under way. Hilton has thrown his name in the pool as a potential coaching candidate — he was a head football coach for three years at Arvada (Colo.) High School — so Hornback will head up the search committee instead.
Hornback brings high school coaching experience to the search committee. He served as an assistant for St. Thomas Aquinas, as well as head coach at Grandview (Mo.) and Des Moines (Iowa) Roosevelt High before coming to BSHS in 2007. Joining him on the search committee are BSHS assistant principal Rick Moulin, high school parent Dave Terrell, middle school parent Jerry Hoffine, former BSHS activities director Len Mohlman, USD 204 school board member Ray Cox, youth football parent Jerry McArthur, BSHS Booster Club member Mike Holloway and Mayor Clausie Smith.
Hornback said each panel member brought different interests to the table, and the thought the diverse perspectives would be beneficial.
"Each of those guys has a different stake in what happens," he said. "I'm real hopeful with what the group comes up with."
Hornback said 16 applications have been received so far. The position will be advertised until Feb. 4. After that, the committee will meet to review the materials submitted by applicants and schedule interviews. The committee's goal is to submit a recommendation to the school board during the first March meeting.
Interested applicants are required to fill out an online Classified Application from usd204.net, as well as submit to Hornback at hornbackj@usd204.net a coaching resume and letter of interest, player and program development plans — including a mission statement, and a playbook.