Races set as filing deadline passes for local elections
Six file for City Council; three to face off for at-large school board seat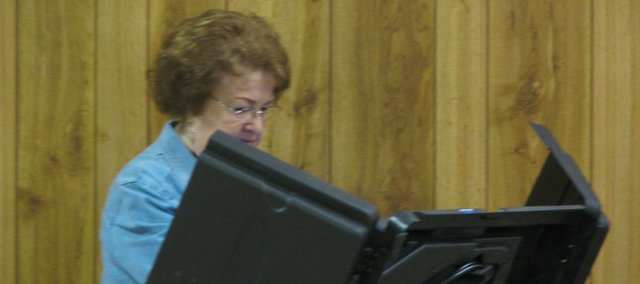 Final election filings for Basehor City Council and Basehor-Linwood school board guarantee that Basehor-area voters will see some new faces in office after this spring.
One incumbent member of each of those electoral bodies decided not to run for re-election, meaning that each will gain at least one new member and possibly more.
None of the races drew enough candidates to require a primary before the April 5 general election.
Six candidates have filed to run for three open city council seats, including two incumbents.
According to the Leavenworth County Clerk's office, council member Iris Dysart filed to run for re-election, and member Bill Moyer will run for election after being appointed to his seat by Mayor Terry Hill in 2009.
They will be joined in the race by candidates Fred Box, Richard Drennon, Travis Miles and Bob Moore.
Council member Jim Washington, whose term also expires this year, did not file to run for re-election. He was elected to the council in 2007 and is nearing completion of his first four-year term.
Washington said Tuesday afternoon that he made the decision not to run "some time ago," largely to give himself more time as he works toward finishing a doctoral degree program in security studies through the Command and General Staff College at Fort Leavenworth and Kansas State University.
"It was probably one of the more difficult decisions I've made," Washington said.
He said he may try to jump back in to government at the city or county level after finishing his studies this year or next.
Two Basehor-Linwood school board seats will be contested in the election, including a three-way race for the at-large position.
According to the Leavenworth County Clerk's office, Larry Harms will challenge incumbent Jeane' Redmond in the race for Position 1 on the board, and newcomers Jim Peters, Jeff Tindell and Lori Van Fleet will vie for Position 7, the at-large seat.
Incumbents Dayna Miller and Eric Dove will run unopposed for Positions 2 and 3, respectively.
Board member Doug Bittel, who currently holds Position 7, did not file for re-election.
Bittel is in his second four-year term on the board after being elected in 2003 and re-elected in 2007. Bittel said Wednesday morning he was pleased with the board's accomplishments during his time in office, and he thought the candidates to fill his spot were capable of guiding the district as it faces budget challenges in the coming years.
"I think eight years is probably enough, and I thought it would be appropriate to have some new voices on the school board," Bittel said.
The deadline to file for the elections was noon Tuesday.