Winter storm watch in effect early Monday morning through 6 a.m. Wednesday for area counties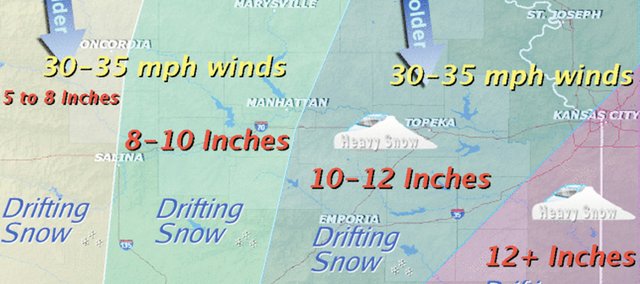 The National Weather Service has issued a winter storm watch effective midnight Monday through 6 a.m. Wednesday for several area counties, including Douglas, Jefferson, Leavenworth, Wyandotte and Johnson counties.
National Weather Service forecasters said the first round of a major winter storm will affect the area today. Periods of freezing drizzle are expected for much of Monday. Although amounts will generally be less than a tenth of an inch, the glaze of ice could result in potentially hazardous travel across much of eastern Kansas.
By Monday night, forecasters said, the freezing rain will switch to snow and will continue to fall throughout the day on Tuesday. By late Tuesday night, the much of the area could see between 8 and 12 inches of snow, with some areas, mainly south of Interstate 35 receiving higher totals. Strong north winds will increase on Tuesday causing blowing and drifting snow and reduced visibility along with bitterly cold wind chill values, dipping to around 15 to 25 below zero for Wednesday and Thursday mornings.
With travel likely impossible for many for several days, forecasters warned, people should prepare to have an amply supply of food, medication and a backup heat source.
The Kansas Department of Transportation said that as of 7 a.m. Monday road conditions in Douglas, Leavenworth, Wyandotte and Johnson counties were mostly wet and slushy.
Check back here later as weather updates and cancellations become available.