Kenzi Ussery welcomed home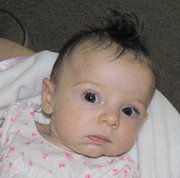 Stacy and Kevin Ussery, Basehor, announce the birth of their daughter Kenzi Grace Ussery.
Kenzi was born April 21, 2011, at Overland Park Regional Medical Center.
Maternal grandparents are Keith and Karen Sifford. Paternal grandparents are Kenneth and Wendy Ussery. Great-grandparents are Wilma Ussery, Paul and Audrie Hancock, and Maxine Freeman.
Kenzi was welcomed home by older sisters Kirstin and Kayleigh Ussery.