Bobcats, Braves lauded by Kaw Valley League softball coaches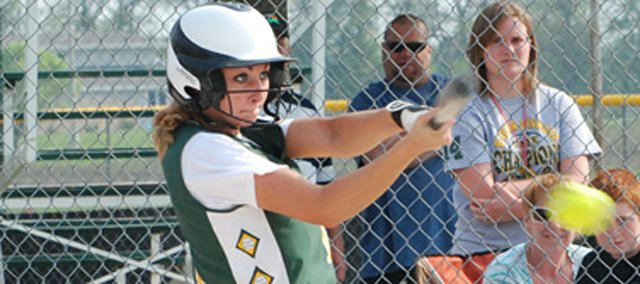 The loss of a large senior class from the 2010 Class 4A state championship squad put a giant question mark on the Basehor-Linwood softball team entering the 2011 campaign.
The Bobcats would be extremely young, but expectations within the squad were high. They knew some opponents expected them to be rebuilding, but the Bobcats simply wanted to reload.
That's exactly what they did.
The Bobcats rattled off a 16-8 record, won the Kaw Valley League championship and eventually advanced to the Class 4A state tournament for the second straight year.
It was the fourth time in coach Susan Mayberry's 14 seasons at the helm that BLHS has won at least 16 games, and the team's second league championship sixth state tournament berth during that time.
As a result of their efforts, the Bobcats had four players recognized as All-Kaw Valley League performers.
All four were upperclassmen who helped set the tone for the season, and all four were starters on the state championship squad.
Junior infielder Hannah Tush and junior pitcher Brooke Redmond garnered All-KVL first-team honors, junior outfielder Olivia Cowan was a second-team honoree and senior pitcher/first baseman Shelby Pierce was named to the honorable mention squad.
Tush emerged as the Bobcats' defensive and offensive leader this season. In addition to playing almost flawless defense at shortstop, Tush led BLHS in hitting with a .517 average, 31 hits, six doubles and 18 stolen bases. She was second on the team in RBIs with 19. Tush was named to the Class 4A All-State first team this season.
"I think the younger players watched the way she plays the game — her intensity and competitiveness; her focus and work ethic," Mayberry said of Tush. "Confidence breeds confidence, and I think she helped instill it with the younger players. I can tell that the players respect Hannah and, as a coach, that's what you want. Older kids that are respected are who lead by example."
Redmond — the Kansas City Star's state player of the year in 2010 — battled injuries during her junior season and only pitched part-time. She was fourth on the team with a .373 average, however, and drove in 17 runs. In addition, she came back to pitch late in the season and helped the Bobcats advance to state.
"It was crucial for our team that Brooke be able to come in and help our team out during regional play," Mayberry said. "Piper was peaking at the right time, and we needed Brooke to be able to come in and shut them down (in the regional semifinals). She then pitched great against Tonganoxie (in the finals), and our defense really, really played well behind her.
"Again, she only gives up four hits in Salina against Girard and puts us in a position to win. She's been our ace. She is our ace, and will be in 2012. Again, her desire to be the best and beat the best gives our team the energy to play great."
Pierce also gave the Bobcats an opportunity to play great, and that's a big reason she garnered honorable mention honors.
Mayberry raved about Pierce's consistency when she stepped in to pitch while Redmond was injured.
"Brooke faced a little bit of adversity midway through the season. Fortunately for us, Shelby Pierce stepped in and pitched incredibly well," Mayberry said. "She picked up a win against Lansing and a win against Turner to secure the league championship."
Pitch possessed one of the most dangerous bats in the Bobcats' lineup. She was fifth on the team with a .362 average and 19 hits, and she was at her best with runners on base. She had a team-high 20 RBIs.
Meanwhile, Cowan was one of the top outfielders in the KVL, and her glove work in center field — paired with her precision at the plate — made her a second-team selection.
Cowan was third on the team with a .391 average, 25 hits and 19 runs scored.
Mayberry said both Pierce and Cowan have been models of consistency for the Bobcats.
"What sets them apart is that throughout their careers they have consistently won," she said. "They aren't one-season wonders who happen to have a good season. They are players who are very skilled and thus, should be rewarded. They are players who are coachable and listen. What sets them apart is their day-to-day desire to get better, and to make everyone else around them better. They work hard, they buy in to our softball program's philosophy, they know they aren't bigger than the game or our program, and they are willing to do whatever it takes to lead this team."
Mayberry expressed disappointment that sophomore catcher Courtney Leive didn't garner All-KVL honors. Leive was second on the team with a .459 average, 28 hits and five doubles, scored a team-high 26 runs and drew a team-high 12 walks. Despite the league snub, Leive joined Tush as an All-State first-team honoree.
"For two seasons Courtney has been consistently good; very good," Mayberry said. "We're glad she's on our team, and that's why we don't focus on individual awards. These kids would rather have a team trophy than a medal."
Bonner Springs also had four players garner All-Kaw Valley League honors after a 6-14 season, and just like BLHS, the Braves honored were upperclassmen.
All four Bonner Springs players on the All-KVL lineup — Kylee Timberlake, Shelbie Thornton, Breanna Tendick and Cassady Holloway — are juniors.
First baseman Kylie Timberlake, shortstop Breanna Tendick and center fielder Shelbie Thornton all were named to the All-KVL second team, and third baseman Cassady Holloway was an honorable mention selection.
Tendick is a three-time all-league honoree.