Goens honored with Basehor Outstanding Citizen Award for years of volunteer work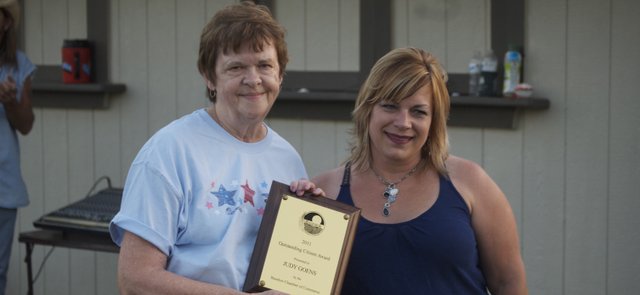 Past award winners
Basehor Chamber of Commerce Outstanding Citizen Award
2001: Mary Leonard
2002: Bob Purtee
2003: Ferna Moser
2004: William Lewis Clark
2005: Roger Brandt
2006: Mary Ann Mogle
2007: Lila White
2008: Jeff Theno
2009: Carl Slaugh
2010: Don "Slim" Wilson
Photo Gallery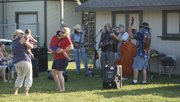 2011 Basehor Fourth of July celebration
Visitors dotted the grounds of Basehor-Linwood High School on Monday for the 2011 Basehor Fourth of July celebration, organized by Basehor PRIDE and featuring members of the Basehor VFW Post 11499.
Judy Goens had just been honored as Basehor's citizen of the year, and the people around her said she should sit down and enjoy the fireworks coming up.
But she wasn't about to do that.
"There was just one girl at the popcorn machine," Goens said. "I said, 'I've got to go help.'"
Goens was in charge of popcorn sales at Basehor PRIDE's Fourth of July festivities Monday night, and her new Outstanding Citizen Award from the Basehor Chamber of Commerce did not absolve her of those responsibilities, she said.
Of course, longtime Basehor resident Susan Guy said that's why she nominated Goens for the award: She is the consummate volunteer.
"If there is a community event, chances are you will see Judy Goens helping with the festivities," Guy wrote on her nomination form.
Since they worked together on a committee to plan Basehor's centennial celebration in 1989, Guy said, she'd found Goens to be the kind of willing volunteer, up for anything, who is tough to find.
"She's very dependable," Guy said Tuesday. "She's always there when you need her, and eager to help everybody."
Goens said she began volunteering as soon as she and her late husband Allen moved to Basehor in 1970, serving in parent-teacher associations and helping in her three children's classrooms.
"Any time they asked for a mom to volunteer, because I was a stay-at-home mom, my kid's hand went up and volunteered me for anything that came along," Goens said.
She joined the Basehor High School Booster Club before any of her children were actually in high school, she said, and helped with the centennial celebration in 1989. After the celebration, she joined with three other women on that committee and began to work on what she said had been the greatest focus of her community service: Basehor City Park.
Basehor did not have a park when Goens helped begin the Basehor Park Association in 1989, but by 1992 Goens and other volunteers had raised enough money to create one. To raise the funds, Goens and others served concessions at what was then Sandstone Amphitheater in Bonner Springs during just about every concert there for several years.
She remembered that when metal bands such as Poison would play at Sandstone, her children would ask her if she knew exactly what kind of music was being played while she served popcorn and hot dogs.
"They'd say, 'Mom, that's hard rock,' " Goens said. "I'd say, 'It doesn't matter what it is, as long as we're selling lots of concessions.' "
Eventually, the group sold enough concessions to make a down payment on the new city park. Fellow longtime volunteer Chuck Wilderson said the group raised about $25,000, about half the cost of the property, and the city paid the rest.
Goens continued to work to raise money for the park after it opened, helping to begin an aluminum-recycling fundraising program and to add shelters, a walking trail and restrooms.
"All the things that were ever put up there, she's had a hand in all of that," Wilderson said.
She remains the chairwoman of the Basehor Park Association. When her three grandchildren, who live in Shawnee, come visit the park along with her, they refer to it as "Grammy's Park," she said.
"I do feel like it's partly mine," Goens said.
Goens' other volunteer commitments include the Basehor Dairy Days planning committee, the city's Park Advisory Board and PRIDE, for which she is vice chairwoman.
Wilderson said Goens could always be counted on to get a job done.
"I've just admired her for a long time," Wilderson said.
Judy's husband Allen, a former Basehor mayor and also a frequent volunteer, won an Outstanding Citizen Award of his own, in 1997. He died in 2007 after a two-year battle with mesothelioma.
"My only regret is that my husband didn't live to see me get the award, so that I was even with him," Goens said.
She said she was glad to be surrounded by family when she was surprised with the award Monday, though, including her daughter Lesley, son Michael and grandsons Sam and Colin. She wished her daughter and Lisa and granddaughter Monica could have made it, she said.
Guy said she wasn't sure what drove Goens to give up so much of her time in service of the community, but Basehor was better off for it.
"Some people are just born to be volunteers," Guy said.