Whether individually or as a teammate, Equels shined at
BLHS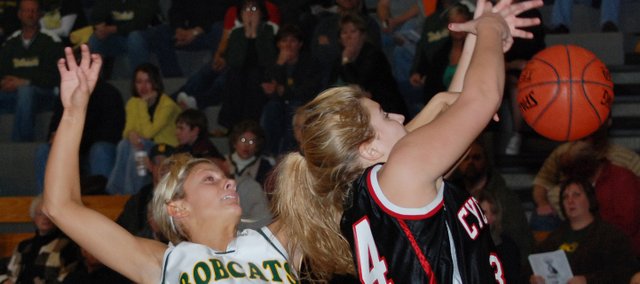 Shelby Equels is surprised that she was named the Basehor-Linwood High School Female Senior Athlete of the Year.
Photo Gallery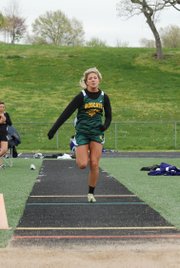 Shelby Equels--BLHS Female Senior Athlete of 2010-11
Shelby Equels is the Basehor-Linwood High School Female Senior Athlete of the Year.
Sure, she had an impressive resume with 11 letters in four sports as a standout performer in basketball, track, volleyball and powerlifting, but she knew there were a lot of talented girls in her class.
"I was super excited when I got it," she said. "I had no idea it would be me because there are a lot of athletic girls in my grade. I felt like a couple people could have won it over me."
That respect for others is part of what made Equels so great during her career at BLHS. Whether she was needed in a starring role — such as in track or lifting — or was asked to be a role player on a talented team — such as the basketball squad that finished third at the Class 4A state tournament — Equels was ready and willing to do whatever was asked of her to help the Bobcats be successful.
The award was a fitting end to Equels' high school career.
She remembers being a freshman who wasn't selected to play on junior varsity. She remembers not always being the most heralded of athletes, but also choosing to stick with it and earn her place on the team.
By the end of her career, she'd amassed an impressive resume of accomplishments.
"I just feel like I am determined and driven," Equels said. "When I want something, I go for it. My parents have helped me throughout the years to push through things."
In addition to her parents — Joe and Debbie Equels — she credited the coaches who helped her to steadily improve in sports. Coaches like Bruce Courtney, Ross Schwisow and Jared Fuhrman.
"I'd definitely say Schwisow and Furhman," she said of her main influences as an athlete. "They were both really supportive and I learned a lot from both of them. Coach Courtney wasn't always about one single person. He taught me to keep with sports even if I struggled with them sometimes."
Coaches noticed Equels' perseverance throughout her career.
"Shelby's maturity was the thing that I saw the most in her in her four years," said Schwisow, the BLHS powerlifting coach. "Oftentimes with athletes, they come in with natural ability and not a lot of confidence behind it. As she worked, she saw the self doubts were not necessary. It was just a maturity process. In some areas she became a role player, and she became a standout in others. She was a consistent workers with great technique."
Equels found her niche in sports like powerlifting and track.
In lifting, she took pride in challenging herself to improve daily while partaking in an activity she can do for the rest of her life.
Equels set school records in powerlifting at the 122-pound division by lifting a combined 300 pounds in bench press, hang clean and squat.
"It was one of my favorite things," she said. "It is something different that most people don't do. I enjoyed doing it. I just like doing different things that most people don't do. My strength is in those sports.
"I just like lifting and running and jumping. As I get older, these are sports that continue to stick with me."
In track, she loved the triple jump because it's unique.
"I like how different it is," she said. "Not many people do it. It was a neat event for me to get into and for people to watch."
More than just a jumper, Equels also was a speedy sprinter and a key contributor on relay teams. No matter the distance required, Equels eagerly stepped in to help the Bobcats.
"She just has been the glue that held us together," BLHS track coach Steve Hopkins said. "She was outstanding. If we needed her to focus on some events this week and others next week, then she would do it. She is one of those kids that can fill any role on the team."
Equels will attend Baker University in the fall as a track athlete and is considering a double major in business and sports management. She said track always has been fun for her.
"Track has been one of my strongest sports," she said. "I like to run and be a part of it. I focused on triple jump and tried to get a personal record, but I wish I could have gone farther in meets and everything."
Equels also thrived as a key contributor in team sports. She was a defensive specialist for the volleyball team as a four-year member of coach Tammy Zydlo's program.
Equels' greatest team accomplishments came on the basketball court, however. She was a three-year member of the varsity girls basketball program. As a senior, she was a starting shooting guard who made her greatest impact as a defensive stopper.
She helped BLHS advance to the state tournament as a junior, and as a senior she played a big role for the Bobcats as they won the Kaw Valley League championship and placed third at the Class 4A state tournament.
"Probably my favorite memory was state basketball this year," she said. "I always liked basketball. It was not my strongest sport, but going and finishing third was a cool opportunity and a really good experience. When we lost that second game (in the state semifinals) it was really tough, but all of us sticking together like we did … I enjoyed all of it."
In the end, Equels is an example to future Bobcats that great things can be accomplished through hard work. She wasn't the most highly touted athlete in her class as a freshman, but by the end of her senior year she was one of the most successful.
More than just an athlete, Equels also thrived in the classroom. She posted a 4.0 grade-point average and was one of seven valedictorians at BLHS.
"School was always just easy for me," she said. "Tests were hard, but for the most part I thought it was a breeze."
Maybe, or perhaps she is just a little modest.
"She is just a tremendous leader who played three sports all four years (and four sports total)," Hopkins said. "That is rare. Kids tend to specialize too much. She took it as a challenge and played all the sports."
Hopkins also had Equels as a student in her College American Government class last year.
"She is a young lady with insight that I wish our politicians had," Hopkins said. "We have been blessed the last three years to have not just good students, but also good athletes with great character."