Bonner police investigate body found downtown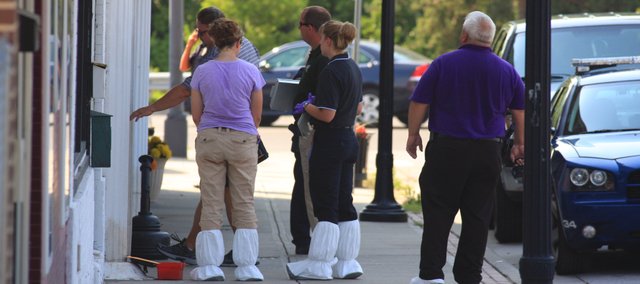 Bonner Springs police took over much of the 100 block of Cedar Street this morning as they investigated the discovery of a body.
Lt. George Collins said police received a call about 7:15 a.m. Monday reporting the discovery of a dead, white male in the area. Collins said police were still in the infant stages of the investigation, so details available are minimal at this time.
Police stationed themselves in the Centennial Park parking lot behind the buildings in the 100 block of Oak, which was taped off for the investigation until about 11:30 a.m. Until about 11 a.m., a police officer was posted at a door leading to an upstairs apartment near Kobi's Bar and Grill on Oak Street, as well.
Watch bonnersprings.com for more information as it becomes available.