Leavenworth County Humane Society receives land donation for future headquarters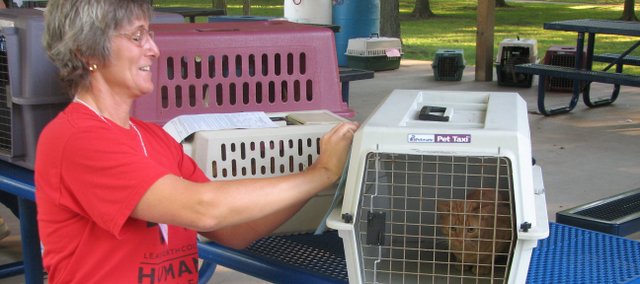 An anonymous donor has given the Leavenworth County Humane Society a site on which to build its first-ever public home.
The society announced this past weekend that a donor, who asked to remain anonymous, had given the group a 14.5-acre piece of land in Leavenworth. Crystal Swann Blackdeer, LCHS president, said the society planned to use the land to build a headquarters that would be open to the public.
"Having a physical location, a physical presence, will give people a place to identify with," Blackdeer said in an interview Monday.
Since LCHS began in 2009, it has not had a public home. Its unofficial headquarters has been Blackdeer's home, she said.
While the land donation will allow a place for people to visit the society in person, Blackdeer said, the group does not plan to use the building as a shelter. She said the society still hoped to construct a shelter in the southern part of the county in the future.
"This isn't the be-all and end-all," Blackdeer said. "This isn't the last chapter; it's the first step."
The land is in a residential area in Leavenworth, Blackdeer said, but she said the society was not yet unveiling the exact location yet for fear that residents may begin leaving stray animals there.
Planning for the new building is in a very early stage, Blackdeer said, and any construction would not likely begin for at least a year. She said early plans call for the building to include an office, a meeting and activity room and possibly a dog-training area.
Along with providing a place for the society to welcome visitors and hold meetings and events, a headquarters would allow the society to apply to receive contributions through the United Way and Combined Federal Campaign, she said.
The Kansas University School of Architecture, Design and Planning may offer another contribution toward constructing the headquarters, Blackdeer said. Chad Kraus, a Lawrence architect and an assistant professor at KU, helped develop plans for a possible future LCHS shelter in 2010. With help from Kraus, Blackdeer said, LCHS could benefit from a program in which KU architecture students design and construct a community building for free as part of a course.
"It's looking good," Blackdeer said. "We had Chad out to look at the land. He thinks he can do something there."
If the KU program is able to help, LCHS would need to pay only for the cost of materials and utility hook-ups. That would still require substantial fundraising, Blackdeer said, and the society would also need to receive approval from the city of Leavenworth, a process that could take up to a year.
The society doesn't plan to include a shelter in the building, Blackdeer said, because the southern part of the county has more need for animal-control services.
"We think the population that most needs service is south of Lansing," she said.
But a new home for the society would be another step toward its ultimate goal of an animal care center in southern Leavenworth County, she said.
"We're not just looking at serving the community for now," Blackdeer said. "We're looking at 30, 40, 50 years out into the future."