Police release name of man found dead Monday in downtown Bonner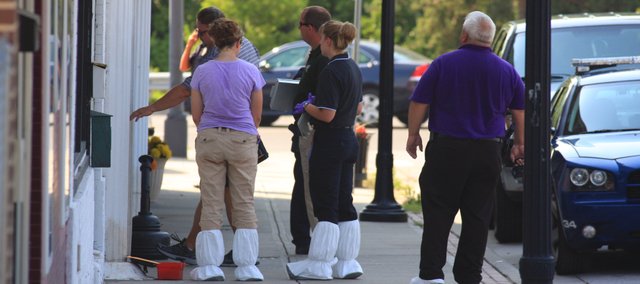 Bonner Springs police have released the name of a man found dead this morning in downtown Bonner Springs.
Lt. George Collins said the man has been identified as Matthew H. Smith, 40, of Bonner Springs. He said police are awaiting for autopsy results and toxicology reports to determine the cause of death and if a crime has been committed.
Collins said police continue to conduct interviews to determine Smith's activities and whereabouts in the hours leading up to his death.
Police received a call about 7:15 a.m. Monday reporting the discovery of the body in the area behind the businesses in the 100 block of Oak Street, though Collins said he could not release exactly where the body was found at this time.
Police taped off Centennial Park and its parking lot, located behind those businesses in the 100 block of Cedar, until about 11:30 a.m. as they conducted an investigation. Investigators also were seen standing outside a door leading to a second story apartment on Oak Street.