Shawnee Mission Triathlon a family affair for Schloegels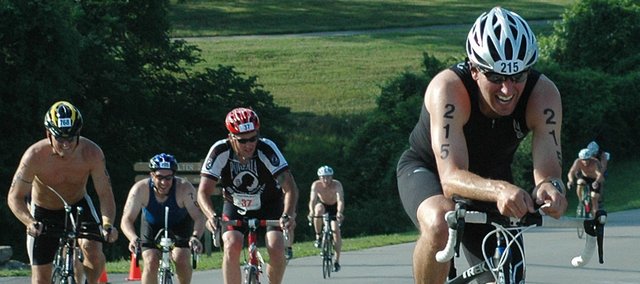 A few minutes after Bob Schloegel crossed the finish line at the Shawnee Mission Triathlon, he turned to a friend and popped an important question.
Photo Gallery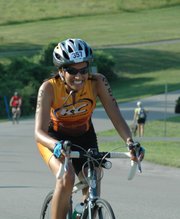 Shawnee Mission Triathlon 2011
"Any of the young guys come in yet?" Schloegel inquired.
Truth be told, the 47-year-old Leawood resident's performance may have fooled many of the spectators at the event Sunday at Shawnee Mission Park. He was the first person to cross the finish line, but he had to wait to find out how he placed due to staggered starting times based on age group.
Schloegel heard his name announced as the first finisher, but that didn't guarantee a first-place finish.
"It kind of surprises me, because I think I'm too old to win anymore," he said with a grin. "I'm 47, so I keep thinking these young guys are going to come and catch me."
The "young guys" did their best, but Schloegel's time of 1 hour, 34 minutes and 26 seconds proved unbeatable and he won the long course championship. Runner-up Ryan Long, a 29-year-old from Omaha, Neb., crossed the finish line two seconds slower than Schloegel.
The long course consisted of a 1,000-meter swim, an 18-mile bike ride and a 4.5-mile run.
"I just enjoy the sport," Schloegel said of competing in triathlons. "Getting out and training is a part of my style, and this is the icing on the cake to come out and do a race like this — especially a local race where you know everybody."
For Schloegel, the Shawnee Mission Triathlon has a particularly personal meaning. This is the 25-year anniversary of participating in the event. He began competing in triathlons in the mid-80s. Shawnee Mission was one of his first two races, along with the old Baptist Triathlon in Kansas City.
On Sunday, his brother, 40-year-old Matthew Schloegel, joined him in the long course race while 16-year-old son Van Schloegel competed in the short course race (500-meter swim, 9-mile bike ride, 2.4-mile run) and finished fourth overall in 54:19.
More than just a family event for spectators, the Shawnee Mission Triathlon truly is an event for the competitors.
"I've got my son racing today, my brother, and we have my dad out here watching," Bob Schloegel said. "We always have a big family presence in the race.
"And a lot of us (competitors) are friends. A lot of us have been doing the race for several years, so everybody knows everybody. It's nice to do a race where everybody's yelling your name. God, I don't even know how many times people yelled, 'Go Bob, go!' I heard that all the time. When I travel and do other races, it's not the same."
Julie Barr of Papillion, Neb., was the champion in the women's long course competition. The 41-year-old finished in 1:46.28, two minutes ahead of runner-up Leslie Curry, 42, Topeka.
Anthony Bertolone, 22, Leawood, was the men's short course champion in 51:22. Lawrence resident John Zirkelbach, 36, placed second in 53:19.
In the women's short course competition, Lenexa resident Kathy Cox, 39, finished first in 1:00:58. Overland Park resident Jennifer Martin, 19, placed second in 1:01:05, and Lake Quivira resident Cathy Wood, 47, took third in 1:01:40.
SHAWNEE PRESENCE
Brian Jenkins was the top Shawnee finisher in the men's long course race. Jenkins, 35, placed 41st in 1:51:43. David Palmer, 42, finished 48th in 1:53:19; Paul Ericson, 33, was 49th in 1:54:00; and Vince Delaughder, 35, placed 50th in 1:54:23.
Angela Burke, 33, was the top Shawnee finisher in the women's long course competition. She took 26th in 2:11:14. In addition, Colleen Vannicola, 50, was 34th in 2:15:37 and Myra Valdez, 36, finished 39th in 2:18:01.
Rafael Frontaura, 55, was the top Shawnee finisher in the men's short course race. He placed 12th in 58:09. Edwin Martin, 35, finished 33rd in 1:03:31, and Joshua Lading, 26, was 39th in 1:05:24.
Top Shawnee performers in the women's short course were Amy Spacek, 39, who placed ninth in 1:07:23, and Heather Blanck, 39, who placed 31st in 1:11:55.