State trooper says teens were 'driving erratically' on 24-40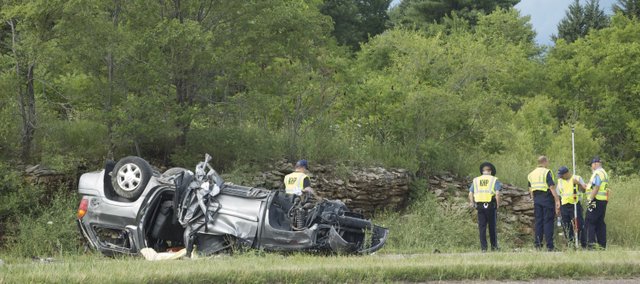 Before Kylee Wilson lost control of her SUV and it rolled over last Thursday afternoon, she and another Tonganoxie High School student had been driving erratically down a four-lane highway, the Kansas Highway Patrol said.
Wilson's 2005 GMC crashed on U.S. Highway 24-40 in Basehor. The 16-year-old died in the crash.
"It doesn't appear they were racing," said Howard Dickinson, Kansas Highway Patrol trooper. "They were driving erratically and changing lanes around each other."
Dickinson said interviews with people involved in the wreck revealed that the vehicles had been continuously passing each other.
The other vehicle, a 2000 Ford Expedition driven by another THS student, Jacob R. Lynch 17, Tonganoxie, was in front of Wilson's vehicle when the accident occurred.
Lynch changed lanes and looked in the rear-view mirror and saw Wilson's vehicle rolling over, Dickinson said. Wilson, of Leavenworth, was pronounced dead at the scene.
The passenger in Wilson's vehicle — Haley L. Sparks, 15, Leavenworth — was released from Kansas University Hospital in Kansas City, Kan., the day after the accident.
Lynch and a passenger, Samuel Christopher Cook, 15, Leavenworth, were not injured, according to reports.
Dickinson said all four youths were wearing seat belts.
Tonganoxie High School principal Jamie Carlisle said the four were THS students.