Tonganoxie community grieves for teen with infectious smile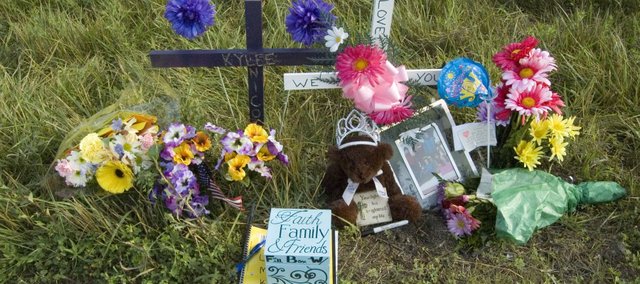 "Smiley" Kylee's grin could light up a room.
Friends and family who spoke Monday at the funeral of 16-year-old Kylee Wilson had stories to share about the Tonganoxie High School student. Many centered on her infectious smile and attitude, her faith and one other thing — her ability to have makeup and hair done by 5:45 a.m. dance team practices.
More than 400 people filled the Family Life Center at Tonganoxie Christian Church to pay respects to the Leavenworth youth who died in a rollover accident Thursday in Basehor.
Rev. Rob Schmutz officiated the service. He spoke about Kylee being a caring person to all.
"She didn't give you part of it; she gave with all her heart," he said.
The minister mentioned Kylee wanting to be baptized at a young age, although he hoped she might wait until she was older.
"Have you ever tried to talk Kylee out of anything?" Schmutz said, triggering laughter among those in attendance.
He praised her faith and urged everyone to keep smiling as Kylee would during the difficult times. At one point, he asked people to turn to those next to them and say "Kylee loves you, dangit."
Friends and family, including her older sister, Ashlee Coulter, spoke about Kylee. She talked about a paper Kylee had to write about people who inspired her. Kylee selected her mother, Stacie, and her older sister as the topics of her paper, choices that Ashlee cherished.
In the paper, she described how she looked up to her mother and sister. Kylee was impressed with her mother's ability to create words not found in the dictionary. Kylee also wrote that she liked sharing clothes with her older sister — though Ashlee said it was more about Kylee taking her older sister's clothes. Joking aside, Kylee appreciated having someone she always could talk to and confide in with her older sister, according to her paper.
Others shared their memories and stories, including her fellow dance team members, each dressed in purple — Kylee's favorite color — and one of her elementary school teachers, Pam Field.
Field recalled meeting "this sweet little girl" when she was in Field's third-grade class and that she had a "smile as big as Texas."
Later in the service, LeAnn Rimes' rendition of "Amazing Grace" played throughout the Family Life Center.
A slideshow of Kylee's photos set to music, as well as dance team performances, were shown at the end of the service.
Many attending wore purple in some capacity in honor of Kylee's favorite color.
Between a candlelight vigil Saturday and Monday's service, Kylee's tendency to carry around a jar of peanut butter was mentioned a few times.
"Just to eat in case she was ever hungry," Gail Kiefer, Kylee's dance team coach, said Monday evening.
Twizzlers, pickles and peanut butter were some of Kylee's mainstays, according to her dance coach.
In June, Kylee and her dance teammates participated in a dance camp in Highland. While there, she earned the distinction of All-American, and was set to perform with other cheerleaders in the Macy's Thanksgiving Day Parade in November in New York City.
She loved to dance, Kiefer said, and also wanted to go to college to become a veterinarian.
The team's unofficial hairstylist, Kylee, as her coach and teammates pointed out, was "peppy" at 5:45 a.m. for dance practice — hair done and makeup on to boot.
She also was known for fitting herself fully inside a panty hose leg.
"She liked confined spots, I guess," Kiefer said with a laugh.
Kiefer also said one of Kylee's traits betrayed her mischievous side.
"When she giggled, she was up to no good," Kiefer said.
Kylee wasn't just known for her dance abilities. She also was a prominent member of the marching band, which required some skill for halftime shows at THS football games. She would perform dance routines and then hustle to her spot, flute in hand, for the marching band performance.
Friend Sarah Wetta laughed as she recalled Kylee finishing her dance performance and then racing to her marching band spot.
Asked about a specific memory of Kylee, Wetta had one in mind.
"She stole my shorts," Wetta said.
Wetta, a THS cheerleader, performed alongside her dance team counterpart often. There was a time when Kylee needed to borrow some shorts for a practice and Wetta gave her one of her pair. Wetta chuckled as she remembered asking on later occasions for their return.
Honoring Kylee
Whether early morning or as the sun was setting, friends and family were honoring Kylee on Saturday.
Saturday morning, a few friends put crosses and flowers at the accident site.
Rebekah Adcox, a dance team member with Kylee, was one of the friends who visited the site Saturday morning.
She talked about there not being a "guidebook" to dealing with such tragedies, but that community members could find strength in each other.
Adcox reiterated that Saturday night at a candlelight vigil outside Tonganoxie High School as friends, one by one, took the microphone and spoke about Wilson.
But as Adcox talked about Kylee always having a big smile, she also shared that Kylee was small in stature.
Adcox said Kylee occasionally would jump inside a teammate's duffle bag — and fit.
"Any small space no one else would fit, she would fit," Adcox said.
Tears were met with laughs as friends shared their stories. The common message: It was hard to find a time when Kylee wasn't smiling or making others smile.
More than 150 people gathered for the vigil in which purple ribbons were handed out. Bracelets also have been ordered that read "R.I.P. Kylee Wilson."
Proceeds from the bracelets will go toward Team Tongie, a nonprofit organization created in 2009 to help families in the Tonganoxie community facing serious health issues.
Maggie Wells, a classmate of Kylee's who will be class president for the coming school year, said about 500 purple ribbons were made. As for bracelets, anyone interested in purchasing a bracelet could make arrangements with her by calling (913) 940-9081.
The vigil concluded with those attending forming a large circle, hand-in-hand, for a final prayer.
Adcox also created the "R.I.P. Kylee Wilson" Facebook page.
She said it was amazing to see "a couple hundred" people join the Facebook page within 30 minutes of her creating it.
Tuesday, there were just more than 2,000 fans of the page.
In addition to Saturday's vigil, another took place Monday night in the parking lot of the former Wolf Creek Marketplace in Basehor just west of the crash site. Between 75 and 100 people attended the vigil.
An obituary for Kylee Wilson appears on page 7.