Basehor City Council member calls for employee benefit cuts at budget session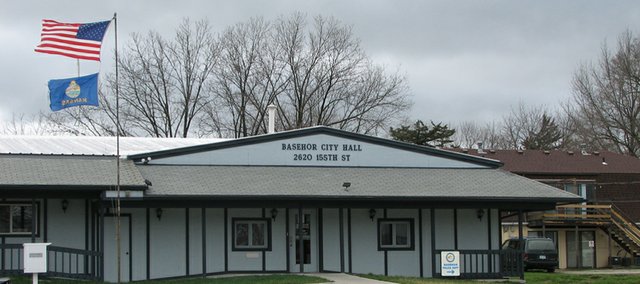 Related document
After Basehor city staff proposed a 2012 budget that would keep residents' mill levy steady, one council member responded last week with a proposal to further cut spending by slashing benefits for city employees.
At a special city council work session to review the 2012 budget Thursday, July 7, council president Dennis Mertz presented a plan that he said would save the city about $81,000 next year by cutting payments into current employees' retirement accounts and contributions toward their health insurance premiums.
The cut to retirement contributions would not affect police officers, but the health insurance change would affect all employees.
Mertz said he made the proposal because of a budgeting change the city made in 2011, when it began using about $200,000 of the city's sales tax receipts to balance the budget of its general fund rather than putting it into its capital improvement fund, which is used to improve facilities and infrastructure.
"If we keep on that route, we're going to have to raise the mill levy," Mertz said after the work session, "and we're not going to be contributing any more into the capital improvement fund."
Mertz's plan would slash non-police employees' retirement contributions from the city roughly in half, from about 14.6 percent of their wages to about 7.3 percent. It would extend to all current employees a new policy already in effect for new hires, setting their deferred compensation contributions at the rate used by the Kansas Public Employee Retirement System (KPERS) rather than the higher rate used by the Kansas Police and Fire Retirement System.
A second resolution in his plan would require employees to pay 25 percent of their personal health insurance premiums. Currently, the city pays for all of their personal premiums. The city pays for 50 percent of premiums for their dependents or spouses, and that rate would not change under Mertz's proposed resolution. The change would cost most employees roughly $45 per pay period, Mertz said.
Mertz also showed other council members documents showing that the reduced benefits contributions would be similar to those for employees of other area cities.
Council member David Breuer said he did not see why the change was necessary when city staff had already proposed a budget that would not increase residents' property taxes, at the request of the council.
"You're taking $81,000 from the employees," Breuer said. "That's what you're looking at."
City administrator Mark Loughry said making the change to employees' retirement contributions would amount to revoking benefits they'd previously been promised.
"If you cut those, that is a direct cut to that employee," Loughry said. "You need to understand that."
Mertz said he would like to use the savings to transfer some sales taxes back to the capital improvement fund, where they could be used for a future new city hall or other projects that would allow residents to easily see their tax dollars at work.
"I can touch it," Mertz said. "It's tangible."
The capital improvement fund will receive an estimated $65,000 from sales taxes in 2011, and it is slated to receive the same in the proposed 2012 budget. In 2009 and 2010, it received just less than $290,000 in sales taxes. The last major improvement paid for out of the fund was the city's purchase of the Field of Dreams athletic complex in 2010. Loughry said the current plan was to use the fund to pay for a future city hall.
The city council will address the issue of employee benefits at its regular meeting Monday, the agenda for which includes a proposal from city staff to keep deferred compensation contributions for current employees at 14.57 percent of wages rather than increasing them to 16.57 percent, the projected Kansas Police and Fire rate for 2012.
The council is set to hold a public hearing and approve the 2012 budget at its Aug. 15 meeting.
Other highlights from the proposed 2012 budget:
• Though the budget would keep the mill levy at 29.775 mills, virtually equal to the 29.778 mills in the 2011 budget, a decline in property valuation in the city will cause a decline of about $29,000 in property tax revenue, Loughry said.
"If that trend continues, it's going to make it more and more difficult to be able to maintain a flat mill levy," Loughry said.
• One proposed cutback in the general fund is to reduce funding available to area nonprofit agencies from $30,000 to $15,000. Loughry said that reduction was the result of efforts to keep the mill levy flat.
"It's hard to justify continuing to spend almost a mill on outside agency requests when we're cutting everywhere else," Loughry said.
City council members said they approved of the reduction, including Fred Box, who recently stepped down as commander of the Basehor VFW Post 11499, one recipient of the city's outside agency funding.
"I would think that they know that everybody's cutting back somewhere," Box said of the groups that receive funding.
• The budget reduces the city's administrative assistant position, currently filled by Cassie Schmidt, to part-time from full-time. The position would be budgeted for about 25 hours per week.
Overtime pay available for the police department would decrease by $8,000, though the budget would allow for an increase in hours for the animal control officer, Slim Wilson, to account for an increase in calls from residents about stray animals.