NWS

warns: Weekend will be hot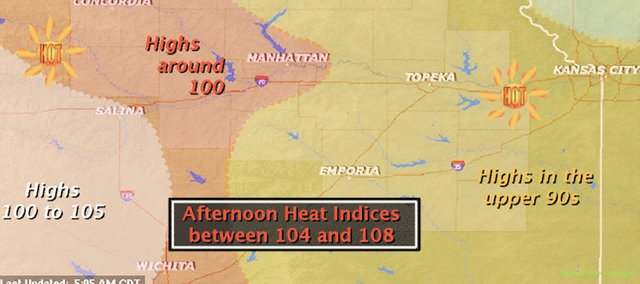 The National Weather Service has issued an excessive heat watch for the area. The watch goes into effect Friday afternoon, and is slated to last until Monday evening.
Temperatures during the weekend heat watch could reach as high as 100 degrees. Factoring in humidity, heat indices will be between 105 and 110 degrees.
The NWS (and we) would like to remind everyone that exposure to these high temperatures and humidities can lead to heat exhaustion and heat stroke. Remember to drink plenty of water and to take rest breaks in the shade.
Counties affected by the watch include:
Douglas
Franklin
Jefferson
Johnson
Leavenworth
Miami
Osage
Shawnee
Wyandotte