Picture-perfect Prioleau to take talents to
KU

for sprinting, photos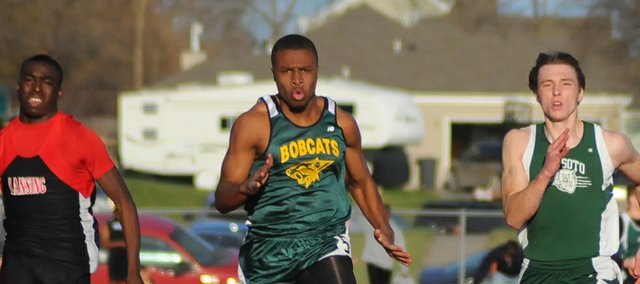 Daniel Prioleau's high school highlights occurred in a matter of seconds, but they left lasting impressions.
On the track, he broke the school's 200-meter record that stood since the Nixon administration. He also was named to the All-Metro second team by the Kansas City Star. In the classroom, he won photography awards for pictures he took for a class assignment.
While Prioleau doesn't see a great deal of similarities between photography and track and field, he plans to pursue both at Kansas University in the fall.
Prioleau plans to run on the KU track team as a preferred walk-on. He also plans to study photo media.
He started taking pictures his junior year in a journalism class and took some pictures of the Basehor library for one of the assignments. The pictures were entered into a contest and selected to be displayed in the public library.
He said the project inspired him to take more pictures and eventually gave him a path to something that he wanted to study in college.
On the track, Prioleau earned some significant accolades and was one of the top high school runners in the area. He medaled at the Class 4A track and field state championships and at the Kansas Relays.
"I have to say the KU Relays was a big deal," he said. "Making the finals at the KU Relays was a big deal."
Prioleau helped the 400-meter relay team win the Sunflower Showdown championship at the KU Relays, and that was just the beginning of a season full of success.
He went on to reach the finals in the 100-meter dash at the state championship before finishing second. Later, he and relay teammates Trey Kincheloe, Lane Young and Miles Brown won the 400-meter relay state championship. Prioleau anchored the relay team to the gold medal in his final race as a Bobcat.
"To medal made me really happy," he said. "Those two are the biggest highlights of my season."
He was a steady performer for the Bobcats track team for three years and ran at state all three seasons.
"I'm really happy," he said of his career. "Just being able to qualify for state as a sophomore and a junior, and just to make it to finals my senior year at state — I was proud of that. I was proud to be a league and regional champion and to help the team with the (relay state title) at state. I was really happy."
Coach Steve Hopkins says Prioleau was always fast, but that he really became an elite runner after running in the state meet as a junior.
He dedicated himself to track after last season. Prioleau joined an AAU track and field team. He ran all summer. He improved his start times and form in running.
"I do think that helped," he said. "Going into the season, I was already competing at a high level. I didn't have to really ramp up."
He didn't play football last fall, opting for a fall and winter track team. In the spring, he etched his name further in the Bobcat record book.
He broke the Basehor-Linwood record in the 200, which had stood for 41 years. He added that to the 100-meter record he set as a junior. His name also is on the record board for the 400-meter relay.
"It felt great, man. Last year I wanted to break (the 200 record), and after state I joined an AAU track team and got better from that," he said. "I did indoor track. I worked on my start a lot.
During the season, Prioleau was the last athlete to leave the track after practice. When workouts were over for the rest of the team, he kept running.
"I was working to be a state champion," he said. "I wanted to go to state and make the finals."
He did what he could to find an edge, whether it was practicing a start one more time to perfect a move or practicing his form. Now, he is going to run at Kansas — on a track where he already has had plenty of success. He hopes to develop his track talents with the Jayhawks and also improve his photography skills at KU.
"I am an OK photographer right now," he said, "but hopefully I get a lot better when I get to college. I am just really ready to start college. I am just ready to go."
Daniel is the son of Paul Prioleau.