Proposal upstages concert finale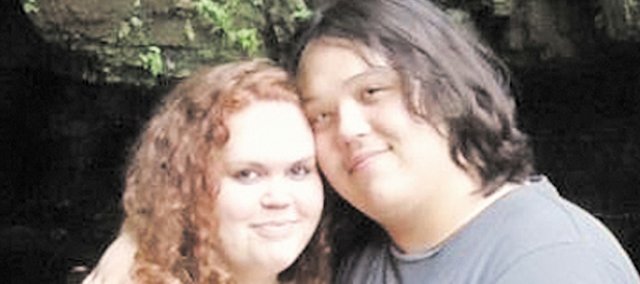 Music and ice cream weren't the only items on the agenda at last week's Bonner Springs City Band concert.
Unbeknownst to most concert-goers — and one key band member — the audience was going to be treated not only to music from both the Bonner and Overland Park city bands, but also a marriage proposal.
Just before the last song of the evening, Bonner band member Justin Crossman of Leavenworth took the microphone to ask fellow band member Caitlin Tinsley of Tonganoxie to be his wife. The two have known each other for eight years but were brought closer together three years ago when Crossman began playing with the Bonner Springs City Band.
"I decided when I was going to propose that I wanted to propose at a city band concert, because that's where we reunited and that's where we fell in love," Crossman said.
The pair originally met about eight years ago at church camp and continued to run into each other over the years through church activities. Then Crossman, 19, was asked to join the Bonner band by the late Larry Berg, from whom he took trumpet lessons.
In the band, he strengthened his friendship with Tinsley, 21, who lived in Bonner Springs until she was in fifth grade and has played flute in the city band for the past 11 years. About a year ago, they began dating.
"He actually was looking for a job, and my work had an opening, and he was texting me with questions," she said. "We haven't stopped texting ever since."
Crossman said when he finally was able to afford a ring, he ran his proposal idea by Tinsley's family and current band co-director Bill Turley. He said he also wasn't too concerned about the possibility of getting turned down in front of several hundred audience members.
"She didn't know when or where it was going to take place, but we had been talking about it," he said. "It's always a good idea to talk about it beforehand. I was fairly sure she was going to say yes."
Before the last song Thursday, he got up and addressed the audience to thank the Berg family, talking about how Larry Berg had brought together people and music and also brought him together with Tinsley. He then asked her to come up to the microphone.
Tinsley said she didn't have any idea the proposal would take place at the concert.
"I didn't really suspect very much until I realized that my dad was standing there with a video camera, and my little sister had crawled out of the band to take photos," she said. "So he had told everyone about this but me."
Crossman said it wasn't too hard to overcome his nerves during the very public proposal.
"I started out nervous, but then it was pretty much just me and her, so it kind of went away, and I didn't notice," he said.
Crossman dropped to one knee, and someone in the audience yelled out for emcee Mayor Clausie Smith to pass him the microphone so the proposal could be heard clearly.
"It was really cute," Tinsley said. "I was a little embarrassed, but it was really cute — I liked it."
Only a week has passed, so the couple hasn't nailed down wedding details just yet, but Crossman said he would like to complete his first year of college before the wedding. He said he thinks he and Tinsley will wait to get married until fall 2012.