Sisters' efforts save Miller's Too; shop relocates in Pink Zebra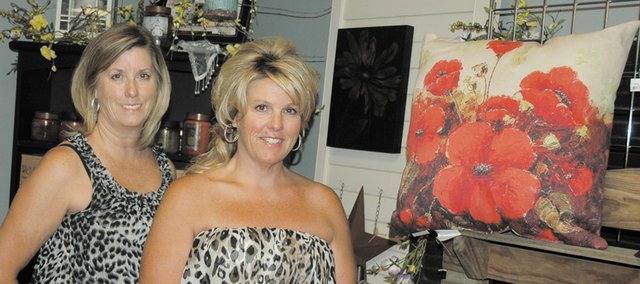 New business owners and sisters Judy Shelton and Deanna Clouse have joined the ranks of downtown's pretty in pink.
At the beginning of last month, the two moved their business, Miller's Too, from its former location at 108 N. Nettleton into The Pink Zebra Boutique, 221 Oak St. The space is shared by the two businesses, marrying the trendy clothing, jewelry and accessories offered by The Pink Zebra with the gifts and home décor that are the staple of Miller's Too.
The match, the sisters say, is one made in heaven.
"Lots of times people come into The Pink Zebra looking for gifts and (with us here), they have more options, like with gifts or with candles," Shelton said.
"And that's the way it's going," added Clouse, "is they're putting home décor in boutiques. And ladies of all ages like to shop."
The sisters recently acquired the business from Carol and Larry Courtney, who are retiring and originally planned to close Miller's Too, Shelton said. Larry Courtney also is a co-owner of Miller Pharmacy, which has been sold to DeGoler Pharmacy, effective Aug. 1.
Shelton, who has worked for both Miller's Too and Miller Pharmacy for 10 years, said she didn't want to see downtown without Miller's Too. So she stepped in, asking her sister to do the same.
"I used to during the holidays help my sister and help Miller's Too do their displays," said Clouse, who is also a hairstylist at Hairworks 32. "And I always had a love for doing decorations and things like that, so when the opportunity was brought to me (to purchase with her sister Miller's Too), I just thought why not?"
Shelton said Miller's Too location on Nettleton had been sold as well, so to make the deal work, they would have to find another location. That's where Jamie Istas, owner of The Pink Zebra, stepped in.
"We were talking to her about wanting to keep Miller's Too in downtown Bonner Springs and she suggested that we share the space with her," Shelton said.
While Shelton said there still were odds and ends to take care of at the former location, the sisters have pretty much moved in, with a somewhat new name — Miller's Too Inside The Pink Zebra.
"I think they're both trendy," Shelton said of why she believes the two stores will work well together, noting that a one-stop shop will help to keep shoppers from straying outside Bonner Springs. "I think people are buying more local instead of going to like the big major mall stores. They're trying to buy locally."
More information about Miller's Too can be found at millerstoo.com.