County's tentative budget includes Basehor
EMS

vehicle, animal control services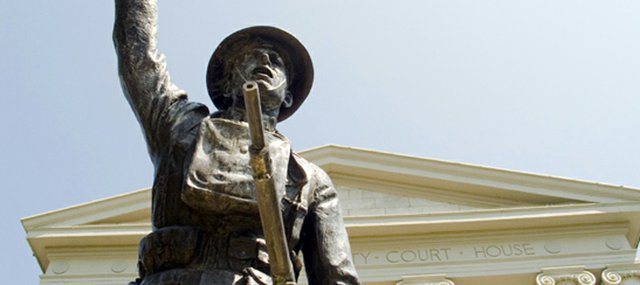 Leavenworth — The Leavenworth County Commission tentatively agreed Thursday to fund animal control services and a new emergency medical vehicle in Basehor in the county's 2012 budget.
Altogether, the commissioners' working budget would increase the county mill levy by about 4.7 mills as it stands now.
That budget also includes an $1.74 million increase in funding for the county's road and bridge fund, equivalent to a three-mill increase on its own. Commissioners emphasized, though, the budget is still a work in progress, and funds they have included in the working budget may still be cut. Commissioners had three days of budget discussion this week, and budget talks are scheduled to continue on Monday, Tuesday and Wednesday.
The tentative budget, which would increase the mill levy to about 37.8 mills, does not yet include a salary increase for county employees, though the commissioners Thursday discussed a possible 1.5-percent increase, which would amount to about a half-mill increase.
"We do need to have a salary increase," commissioner John Flower said Thursday.
Each mill — $1 in taxes for every $1,000 in assessed property value — is projected to produce about $575,000 in revenue for the county.
Sheriff Dave Zoellner last month requested about $90,000 in additional funding to add two part-time animal control officers and one vehicle to provide basic animal control services, especially in picking up stray animals in unincorporated parts of the county.
Undersheriff Ron Cranor said Thursday that the department wanted the commissioners to determine whether or not the county would offer animal control services to residents of unincorporated areas.
"All we ask is, either help us do something for the people of the county, or tell the people of this county, 'No, we're not going to do these things, period.' " Cranor said.
Commissioner Clyde Graeber said Thursday that he supported the request and said it should be placed in the tentative budget, though that didn't mean it was guaranteed.
During Tuesday's budget discussion, commissioner Bob Holland said he opposed the animal control funding, as it would do little to solve a major problem of stray animals in rural areas of the county.
"All this is is a Band-Aid effect," Holland said. "This is a waste of money."
Leavenworth County Emergency Medical Services director Jamie Miller last month requested about $270,000 to provide a paramedic assist response vehicle to be stationed in Basehor, which would allow a paramedic to arrive at Basehor emergency scenes within 5 to 10 minutes and begin providing care before the arrival of an ambulance.
The average ambulance response time in Basehor is about 12 minutes, Miller said. The average response time in Tonganoxie, where the nearest EMS station is located, is about 5 minutes.
Though commissioners ultimately included those funds in their working budget, Flower said earlier that one option for the county could be to fund the new staff and vehicle over a period of two or more years, putting away a portion of the cost in savings each year.
Wednesday, county public works director Mike Spickelmier said the county's road and bridge fund would need an additional $1.7 million in funding just to avoid deferring maintenance on county roads. That extra funding is included in the working budget, as well.
The public works department has dipped into the fund's cash reserves each of the last three years to perform maintenance, Spickelmier said, reducing those reserves from more than $2 million to about $40,000.
"We've basically run our savings account dry," Spickelmier said.
Nearly all of that additional $1.7 million would pay for commodities such as fuel, road seal and asphalt that have skyrocketed in price in recent years as the price of petroleum has risen, he said. And he said deferring maintenance would only make road repairs more costly in the future.
"We're going to pay for it later," Spickelmier said. "We're already starting to see some of that."