Brownback says Ag Hall on its own financially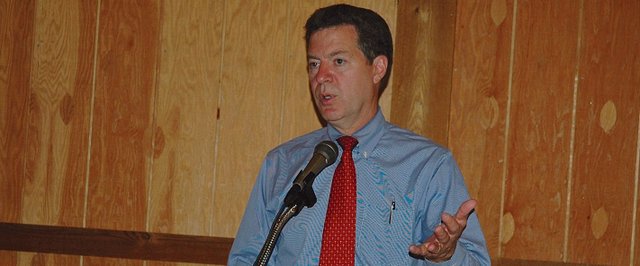 On his way to throwing the first pitch of the Royals vs. White Sox game at Kauffman Stadium Monday, Kansas Gov. Sam Brownback paid a visit to the National Agricultural Center and Hall of Fame.
As the guest speaker of the Ag Hall's Board of Governors annual meeting reception, Brownback was there to show his support. But he made it clear said support would not come by way of a handout from the Statehouse.
"I will certainly be as supportive as I can. Don't look for a lot of money out of the state, 'cause we're cutting budgets," Brownback said to the roomful of Ag Hall governors and supporters. "We just are at strained levels and so much of anything that we do, so much of our money goes into the healthcare now, particularly on Medicaid … so that resource (from the government) is going to be difficult to have."
Brownback said the strain on the government's pocketbook wouldn't end anytime soon, projecting a time period of five to 10 years. Still, he noted the Ag Hall's importance to agriculture, not just locally, but globally, as well; not just in the past, but in the future.
"And not even just looking back, but looking forward, agriculture is a critical part of what this country and the world's going to be about," Brownback said. "We're going to be growing more of our fuel in the future instead of digging it out of the ground and having it fossilized … and that technology and that development and that industry is centered here."
Even without the state's financial support, Brownback said he was confident the Ag Hall would put its financial difficulties behind itself and stay afloat, he said.
"You are uniquely positioned, you have a wonderful heritage, you've got a nice location right here next to Kansas City, which is really the hub of agriculture for the country … But you've got to put the pieces together and you've got to raise the resources to be able to do it," he said.
Some of those pieces, Brownback said, would include finding ways to be competitive with nearby organizations and looking for ways to bring out the "wow factor" of the Ag Hall's exhibits and events.
"It's like your first hot fudge sundae," Brownback said, using the metaphor to describe the delicious experience of attending the Symphony in the Flint Hills, an annual outdoor summer concert. "But you've got to do that anymore because people have limited amount of time and they expect to be wowed, 'cause the competition wows them. And if it doesn't do that, it doesn't work."
• More from Brownback's visit to the Ag Hall will be in the July 21 issue of The Chieftain and Sentinel.