In the driver's seat for safety
Reno Bobwhite 4-H'ers get timely safety advice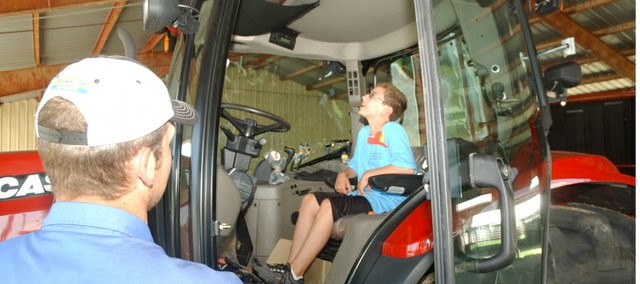 With temperatures soaring to near the century mark, those attending Reno Bobwhites 4-H Club's safety day Thursday at the Leavenworth County Fairgrounds didn't have to wait long to put one lesson into practice.
About 45 Leavenworth County 4-H'ers attended the annual event, which Bobwhite club members organize. Safety break-out sessions were conducted on topics of tractors, horses and horse trailer, Internet, fire, electricity and weather extremes.
Asked what made the biggest impression, Catherine Davidson, 13, said the tips on weather safety in the program Bonnie Monahan and Christey Wiley presented.
"I think (it was) about what you are supposed to do when hot and cold weather comes, like hypothermia, how you need to get medical help right away, and overheating and stuff and not getting enough water," she said. "That's important today and the rest of the week."
All the safety topics covered were chosen with the goal of providing the 4-H'ers with information they could use in their daily lives and share when they talked about the day around the dinner table with parents, said Michelle McIntyre, a Reno Bobwhite adult leader.
Ahren Gann, 10, said he learned important tips from the tractor safety program Gabe Gantz of Kansas Equipment Inc. of Wamego provided. After listening to the program, Gann had the opportunity to sit in the cab of the Case tractor Gantz brought for the demonstration, which was much bigger than the Kubota his family owns.
"I drive the tractor to cut hay," he said. "I learned about how to prevent rollovers and about how to open a baler."
McIntyre said her son Aaron McIntyre was the chairman of the safety day event but that club members played important roles, too. This year her son, who went on a vacation he won late last week, set up some of the presentations while the 4-H'ers either made or arranged others.
"The kids were all instructed to line out their program for each break-out session," McIntyre said. "They are all junior leaders. A lot of them are doing it for projects for next month's Leavenworth County Fair."
The list of presenters indicates the work that went into making the day a success. The club was able to recruit Gantz from Wamego for the tractor safety session, K-9 Deputy Loren Hubbard of the Leavenworth County Sheriff's Office, representatives from the Leavenworth Jefferson Electric Cooperative for the electrical safety break-out and Jeff Hoge, a battalion chief with Johnson County Fire District No. 1.
In addition, club members Allie Packard and Justin Leslie were "co-chefs" of a lunch for the gathering. They served hotdogs, hamburgers, chips, watermelon and desserts.
"This is one of my favorite projects," Packard said. "I like doing stuff with food and getting it figured out, so this was just a good way for me to kind of give back to my club."
Although busy with the lunch preparation, Packard was able to attend some of the sessions, including the fire safety program her friend Hoge presented.
"He told us about if you were caught in a fire in your house or how to help somebody," she said. "If there's a fire in the hallway, you can check your door and see if it's warm, and if not, open it to check to see if you can see smoke. If it is hot, keep the door closed, put a towel underneath the bottom and then see if there's a way to break your window out to get out of the house where you're safe. If you can't get your window open, break it or kick the screen out."