Baseball veterans lead way as 4 Bobcats named All-
KVL

, Bonner Springs has 3 lauded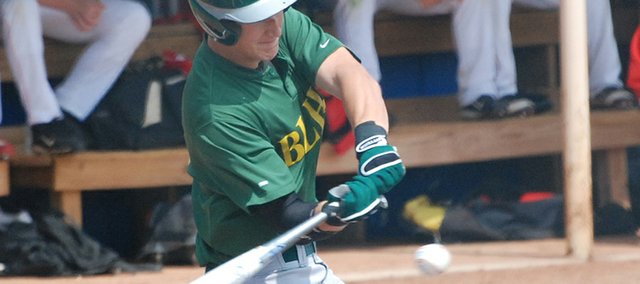 Midway through the 2011 season, the Basehor-Linwood baseball team was struggling.
The Bobcats had a losing record and were struggling to gain traction.
Then they won the Butch Foster Memorial Baseball Classic. After that, they upended defending state champion Bishop Ward in the regional finals and earned a berth in the Class 4A state tournament before losing a heartbreaker to Baxter Springs.
The Bobcats finished the season with a 12-12 record, but due in large part to their late-season charge they captured the attention of opposing coaches. The result was four Bobcats earning positions on the All-Kaw Valley League postseason teams.
All four of the Bobcats recognized were seniors.
Senior Jared Patton was named to the All-Kaw Valley League first team as a catcher. He hit a team-best .367 and had team highs of 28 runs scored, 24 runs batted in and five home runs. Patton also had 22 hits, six of them doubles. He also had a .944 fielding percentage.
Senior Austin Stubbs was named to the All-KVL second team as a pitcher. He led BLHS with a 2.26 earned-run average and held opponents to just a .204 average. Stubbs allowed just 30 hits and 13 total earned runs in 40 1/3 innings pitched.
Senior Nathan Quigley was named to the second team as a shortstop. He had an .857 fielding percentage with 25 put-outs and eight double-plays turned. Offensively, Quigley hit .360 with 27 hits, 25 runs scored, 20 RBIs, eight doubles and three home runs and led the Bobcats with seven stolen bases.
Senior Destry Bryan was an honorable mention selection as an outfielder. Bryan had a .978 fielding percentage to go with a .315 batting average. He had 23 hits, scored 17 runs and stole five bases.
Bonner Springs had three players recognized by the KVL coaches, and all were veterans who helped the Braves turn a competitive corner as they compiled a 9-13 record.
Senior Dalton Vitt — a four-year varsity player for the Braves — was named to the All-KVL second team as an infielder. He concluded his BSHS career ranked third on the program's all-time hit-by-pitch chart by being plunked 11 times.
Senior outfielder Brian Callahan joined Vitt on the second team as a designated hitter. A varsity regular throughout his career, Callahan was most lethal with his bat. He finished ranked third in BSHS history for career batting average with a .452 clip.
Junior center fielder Shawn Jones — a speedy defensive player with a steady bat — garnered honorable mention status as an outfielder.