Basehor City Council, staff reach compromise on benefits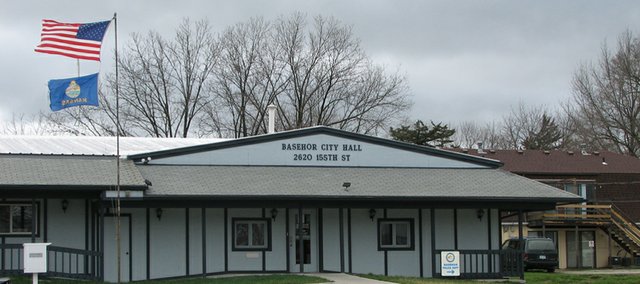 Basehor city employees will indeed likely face a cut in benefits in 2012 — but in return, they will receive a bump in salary.
The Basehor City Council, by a 4-1 vote, directed city staff to draw up a compromise measure that would decrease retirement and health insurance contributions for employees but also increase all levels in the city's pay matrix for non-police employees by 2 percent. Member Iris Dysart voted against the motion.
The benefit cuts in the plan are less severe than the ones proposed earlier this month by council president Dennis Mertz. The total projected savings from the measure for 2012 are projected to be about $13,500, Mertz said, compared with a savings of about $81,000 that would have resulted from Mertz's earlier proposal.
Mertz said Monday that the new proposal was a compromise reached between he and city administrator Mark Loughry.
"Sometimes you just have to work things out, negotiate," Mertz said.
The council's vote did not approve the plan, but directed Loughry to prepare a formal proposal to bring back to the council at its Aug. 1 work session.
The plan, Mertz said, will call for existing non-police employees' deferred compensation benefit to be reduced to 11 percent of their wages from the current level of about 14.6 percent, rather than cutting the retirement benefits in half to about 7.3 percent as his original plan did. New employees will receive an 8 percent contribution until they have recorded three years of service, when it will increase to 11 percent.
In the area of health insurance, the compromise plan would set the city's contribution at a flat rate, rather than at 100 percent of an employee's premiums or 50 percent of premiums for dependents or spouses. That flat rate — equivalent to the cost of an insurance plan with a higher deductible than the one used by most employees now — would not increase in future years if insurance costs rise, unless the city council took future action.
The plan would keep employee benefit costs, which had steadily risen in recent years, steady and under control, Loughry said. The one-time 2 percent pay increase would offset the benefit cuts that would otherwise amount to a substantial wage decrease, he said.
"We want to work with council to accomplish something that's sustainable without penalizing the employees to the point where they're taking home less now than they were three years ago," Loughry said. "And I think that this accomplishes that."
Loughry said city employees understood that their wages are paid with residents' taxes and that the city's current deferred compensation policy would not fit into the city's future budget.
"Nobody here is trying to get rich or take advantage of the citizens," Loughry said.
The city's current policy calls for the city to make contributions to non-police employee retirement funds at the rate used by the Kansas Police and Fire Retirement System. That rate is now set at about 14.6 percent of employees' wages, and in 2012 that number is scheduled to rise to about 16.5 percent.
Former council member Jim Washington, who spoke earlier in the meeting, said the council tied its deferred compensation rate to the KP&F number about 10 years ago, when the rate was at about 6 percent of wages. Since then, he explained, the rate has skyrocketed as the state's police and fire retirement fund has veered toward bankruptcy and required larger contributions. To tie the city's employee contributions to that rate now makes little sense, he said.
"This constitutes an absolutely huge windfall for those other employees," Washington said.
Dysart said the savings to the city that would result from the plan were not enough, and she did not support the pay increase for employees.
"It looks to me like you're taking it out of one pocket and putting it back in their other," Dysart said.
Also at its meeting Monday, the council:
• Rejected a request to construct a police shooting range on the property of the city's wastewater treatment plant.
• Approved, 5-0, a request from Basehor PRIDE to construct a community garden at Basehor City Park, with a formal agreement to be drawn up later. The agreement would state that the city will pay for the water running to the garden, with a possible cap on that expense.
• Approved, 4-1, a final plat for the Wolf Creek Industrial Park at 15063 State Ave.
• Approved, 5-0, new city fence regulations, which were earlier approved by the Basehor Planning Commission.
• Approved, 5-0, a conditional-use permit for a telecommunications tower at 1216 N. 155th St.
• Accepted, 5-0, an external audit from the city's accounting firm, Lowenthal, Webb and Odermann.