BLHS

 standout Bergstrom to play basketball at Baker
After back-to-back state tourney trips, Bergstrom ready for college level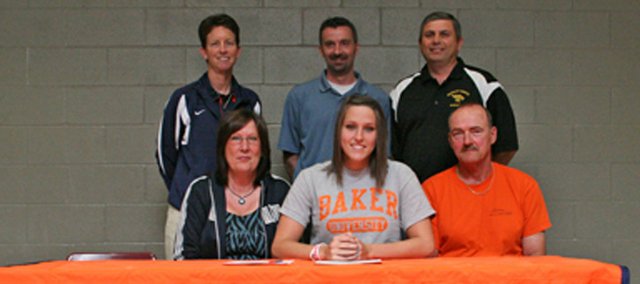 It is an often used philosophy for athletes preparing to go to college and play sports: Pick the school you like and not necessarily the coach who is there.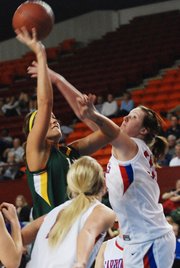 No coach is bigger than a program. Coaches leave. The bricks and mortar and campus life is relatively steady.
While that is the advice, not all follow it.
Megan Bergstrom might be following this line of thinking.
She signed a letter of intent to play basketball at Baker University next year despite not having met the coach, Ben Lister, who was newly hired and started on July 1. He was an assistant coach at Barton County Community College the last few years.
Lister replaces Susan Decker, who coached the program for 11 years before stepping down to focus on teaching full-time in Baker's College of Arts and Sciences.
Bergstrom hasn't met Lister, but she loves the school and the players in the program. She said that played a role in her decision to sign with the Wildcats. Bergstrom wants to study nursing and really liked Baker's nursing program.
"I went down there and loved it," she said. "It is a perfect fit, because I wanted to be a nurse and it is a great school for that as well."
While she has not met the coach, she has spoken to him on the phone and likes the idea that it is a new, fresh start for everyone. Lister told her that whoever plays the best in practice will get the most playing time. The Wildcats hope to build upon a 10-11 record last season.
"Whoever goes in and works hard and who proves they can play will get the most playing time," she said. "It is a good opportunity to show what I have been working toward my whole life."
Bergstrom has talked to a lot of different players in the program and is excited to join the team in August.
She also will room with a familiar face next year, living with Shelby Equels, whom she played with for four years at BLHS. The two helped Basehor-Linwood advance to the Class 4A state tournament as juniors and then bring home a third-place trophy as seniors.
"Definitely, this season has been the best season," she said. "All the girls got along so there wasn't any drama. Practices were really enjoyable. Definitely taking third place at state was the best memory of all."
Now, Bergstrom is looking to the future. She is working at an area restaurant, working out and practicing. She is playing in some pickup games. She went to orientation on June 17 and will report to school in August.
"I am excited to get through the summer, because since I was little, this is what I wanted to do," she said. "I hope to continue to work on my game and play in some pickup games and stuff. The summer coach wants me to come in and scrimmage with the younger girls."