Community garden — emphasis on 'community'
Basehor
PRIDE

proceeding with project at city park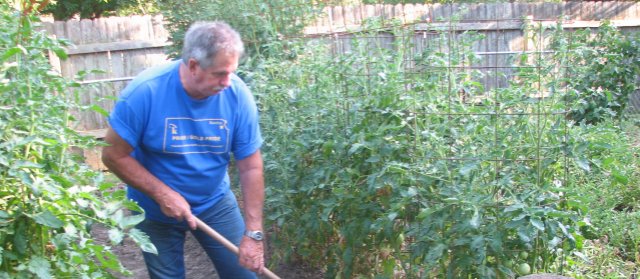 Chuck Wilderson remembered this past week what a garden did for a retired farmer named Roy, a man in his 90s who lived at a nursing home in Basehor.
Wilderson, shortly after he moved to Basehor in 1976, had a garden at his home nearby.
"Every morning, Roy would come over after breakfast and walk around and look at my garden," Wilderson said, "and that was his enjoyment for the day."
Wilderson still keeps a garden, he said, and each morning after he walks out to pick up his newspaper, he checks to see if any tomatoes are ripe.
The joy gardening brought to his and Roy's mornings, he said, is what Wilderson and other volunteers hope to deliver to the city of Basehor with a new project: a community vegetable and flower garden, to be located at Basehor City Park, 15940 Leavenworth Rd.
The garden was approved in a 5-0 vote by the Basehor City Council on Monday, though a formal agreement between the city and the Basehor PRIDE organization, which is sponsoring the project, will come later.
The garden, which is planned to be ready for the 2012 growing season, will offer plots for residents or groups to use for gardening. In return, the residents will pay a small cost — $15 or $25, depending on the size — and agree to help with maintenance.
Gardening, of course, provides physical benefits, Wilderson said: healthy food and physical activity. But a community garden will help create another bond among area residents who participate, and also will provide a scene of natural beauty for all residents to enjoy at the park.
"I think it would build a sense of community," Wilderson said.
That's precisely the reason Rae Anderson, who is new to the Basehor area, said she got involved with the community garden. After living in bigger cities all her life, she wanted a way to develop ties to her new, smaller community, she said.
"It was kind of a stepping stone to get involved in some of the Basehor community organizations," Anderson said.
Even though she has never gardened before, she said, the community garden seemed a great way to meet other people in the area.
"I'm hoping, since I'm a new gardener, I can kind of learn from the other people that have plots," Anderson said.
She said she plans to grow tomatoes, cucumbers and other vegetables on her plot, taking some home to her family and possibly donating extras to others.
That is part of the plan for the garden as a whole, as well, Wilderson said. Participants will be able to give their extra produce to needy families through Basehor-Linwood Assistance Services.
The garden will be overseen by a committee of participants, Wilderson said.
PRIDE volunteer Mike Rollwagen said volunteers from the city of Olathe's community garden and a national group, the American Community Gardening Association, had helped with planning.
"The main ingredient they tell you is that you need the interest," Rollwagen said.
That won't be a problem, he said: Residents have already claimed 10 of the 12 garden plots that are planned at the start. Those plots will take up about an eighth of an acre. Organizers said they hope the garden will one day be the size of Olathe's garden, which measures about a half-acre in size and has 48 plots.
About $1,500 in construction costs, which will include the building of a water line to the garden area, will be donated by the Basehor Park Association and possibly a grant from the state PRIDE organization, Wilderson said.
He said a variety of residents had claimed plots: people in their 20s or 30s who don't have room for a garden, families hoping to teach their children how to grow plants and senior citizens looking for a hobby.
Rollwagen, who grows tomatoes and cucumbers in a backyard garden at home, said he hoped the project would spread interest in a hobby he had long enjoyed.
"There's just nothing like getting up and having a cup of coffee, getting out and walking around and seeing how things grow," Rollwagen said.
For more information or to get involved, residents can contact Wilderson at (913) 724-1057 or Rollwagen at (913) 724-1014.