County commission's proposed 2012 budget would raise mill levy by 2.5
Cuts include animal control service, Basehor
EMS

vehicle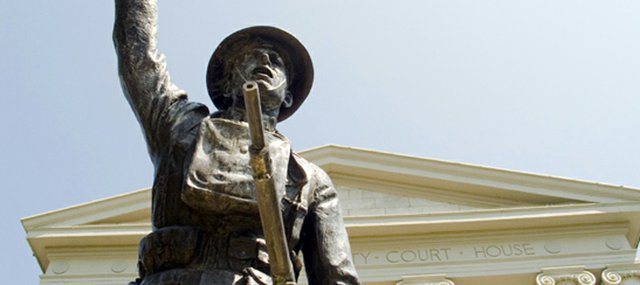 The Leavenworth County Commission on Thursday settled on a 2012 county budget that would maintain basic services while eschewing any new projects, resulting in a mill levy increase of about 2.5 mills.
Animal control services for rural residents and a new emergency medical vehicle for Basehor were among the requested budget additions that the commissioners axed this week, saying the county could not afford them in 2012. The commissioners approved their proposed budget for publication Thursday.
Commission chairman Clyde Graeber said Thursday that the commissioners had done a good job keeping the budget under control while maintaining services. Graeber had said earlier this week that he aimed to keep a mill levy increase to three mills or less.
"I'm very pleased with the end result that I see here today," Graeber said.
The budget does include an addition of $1 million for road and bridge maintenance, an increase that county public works director Mike Spickelmier said was necessary because of rising fuel and asphalt prices. The commissioners, though, did not grant an additional $739,000 that Spickelmier had also requested for maintenance.
Also included in the budget to be published is a 2 percent salary raise for all county employees, an increase of about $400,000. The commissioners also granted an increase of $164,000 in funding for elections, which will require additional expense because of the presidential election and the redistricting that will be required for the first election since 2010 Census figures were released, county clerk Janet Klasinski said.
The countywide mill levy is set to be 35.513 mills, up from 33.086 in 2011. Each mill — $1 in taxes for every $1,000 in assessed property value — is projected to produce about $575,000 in revenue for the county.
After the commissioners agreed to cut a $69,000 request from the Leavenworth County Sheriff's Office to provide two animal control officers and a vehicle, commissioner John Flower recommended the formation of a "blue-ribbon" panel to brainstorm animal-control solutions for the county in advance of the commission's budget process next year. After Thursday's meeting, he said the panel might consider ways to incorporate the animal control departments in the county's cities in a countywide solution.
"It has to be such that it is a win-win situation for everybody," Flower said.
Leavenworth County Humane Society president Crystal Swann Blackdeer, speaking at Thursday's meeting, said she was disappointed that the county would continue to provide no animal-control services for residents of unincorporated areas, but she appreciated the attention the commissioners gave the issue.
"The fact is the Board of County Commissioners is on record, and the Sheriff's Department is on record, for recognizing that there is a need to provide these demanded services," Blackdeer said.
She said she was eager to see when the proposed panel on the issue could be convened, and she said she hoped it would avoid the fate of a similar panel that Basehor officials planned in 2010, which never met.
As for the $269,000 request from Leavenworth County Emergency Medical Services to provide a paramedic assist response vehicle to be based in Basehor, Flower said the request would have provided a good service, but it was simply too expensive to be funded now.
"We think that's a great idea," Flower said. "We think there's more work that needs to be done on it. But predominantly, we just don't think we can afford it in '12."
The budget will be published on Aug. 5, and the commission will have a public budget hearing Aug. 15.
Flower said the commissioners had worked hard to minimize tax increases at a time when costs such as fuel were skyrocketing. The proposed budget would not provide any flashy new services, he said, but it would keep things running.
"We're just paying the bills right now," Flower said.