Don't expect state bailout, governor tells Ag Hall board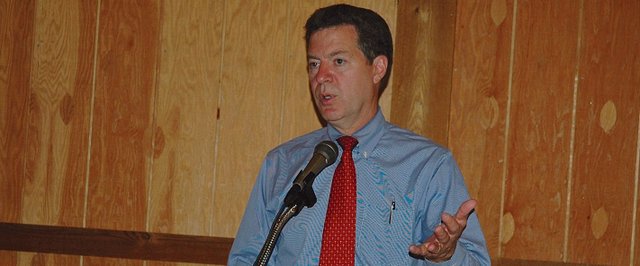 On his way to throwing the ceremonial first pitch before Monday's Royals vs. White Sox game at Kauffman Stadium, Kansas Gov. Sam Brownback paid a visit to the National Agricultural Center and Hall of Fame.
As the guest speaker of the Ag Hall's Board of Governors annual meeting reception, Brownback was on hand to show his support. But he made it clear such support would not come by way of a handout from the Statehouse.
"I will certainly be as supportive as I can. Don't look for a lot of money out of the state, 'cause we're cutting budgets," Brownback said to the roomful of Ag Hall governors and supporters. "We just are at strained levels and so much of anything that we do, so much of our money goes into the healthcare now, particularly on Medicaid … so that resource (from the government) is going to be difficult to have."
Brownback said the strain on the state government's pocketbook wouldn't end anytime soon, projecting a time period of five to 10 years before it eases. Still, he noted the Ag Hall's importance to agriculture, not just locally, but globally, as well; not just in the past, but in the future.
"And not even just looking back, but looking forward, agriculture is a critical part of what this country and the world's going to be about," Brownback said. "We're going to be growing more of our fuel in the future instead of digging it out of the ground and having it fossilized … and that technology and that development and that industry is centered here."
Even without the state's financial support, Brownback said he was confident the Ag Hall would put its financial difficulties behind itself and stay afloat.
"You are uniquely positioned, you have a wonderful heritage, you've got a nice location right here next to Kansas City, which is really the hub of agriculture for the country … But you've got to put the pieces together and you've got to raise the resources to be able to do it," he said.
Some of those pieces, Brownback said, would include finding ways to be competitive with other nonprofit organizations and looking for ways to bring out the "wow factor" of the Ag Hall's exhibits and events.
"It's like your first hot fudge sundae," Brownback said, using the metaphor to describe what he said was the delicious experience of attending the Symphony in the Flint Hills, an annual outdoor summer concert. "But you've got to do that anymore because people have limited amount of time and they expect to be wowed, 'cause the competition wows them. And if it doesn't do that, it doesn't work."
Brownback opened the floor for comments or questions. Joe Steineger, newly elected as chairman of the board of governors earlier in the day, asked whether Brownback thought there was any help to be found from the federal government, since the state's hands were tied.
"We're in a period of struggle where we're going to have a hard time making this place keep going," Steineger said. "I was wondering if you thought if we put a delegation together of Missouri people, Kansas people all around this area, 'cause it is the National Agricultural Hall of Fame, if we could approach the Congress and sell them on the idea of some seed money, whereby we could create a auditorium or such here that would enable us to do horse shows and cattle shows and concerts … things like that that would make us become self-sufficient."
But Brownback, who had served more than a decade in Washington before becoming governor in January, was quick to stamp that idea out. He noted the federal government was in an even worse situation financially than the Ag Hall's home state.
"Joe, I just I wouldn't want to encourage you on that right now," he said. "Congress is looking to cut $2 to $4 trillion dollars out of their budget within the next 10 years … Something might happen, you might be able to do that. I think most people would say, you know, 'Are you not reading the papers?' … The federal government is way overspent, and everything, everything is to try to pull it down."
Instead of setting their sights on state or federal funding, Brownback suggested Ag Hall officials consider partnering with farm shows like the American Royal in Kansas City, Mo. Leasing the land as a site for some of the area's larger farm-related events, Brownback said, might help to bring in needed attendees to the center and, subsequently, those needed dollars.
Steineger presented Brownback with a plaque recognizing him as an honorary member of the Ag Hall Board of Governors. Steineger said he wasn't surprised by Brownback's comments given the economy and was, more than anything, just happy to have the governor on the Ag Hall grounds.

"I was thrilled he was here," Steineger said. "I seem to agree with everything he said. He's got a really tough job … trying to cut the budget and do all the things he has to do. I feel for him, I know it's hard to do."