Leadership changes coming to Fort Leavenworth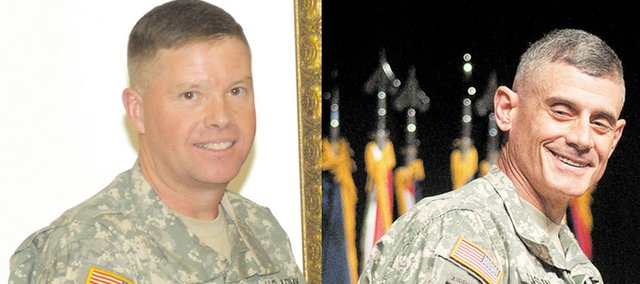 Fort Leavenworth — Fort Leavenworth is losing its top commander to the peacekeeping mission in Iraq while his replacement is set to arrive from Colorado.
President Barack Obama today nominated Lt. Gen. Robert L. Caslen Jr., commanding general, U.S. Army Combined Arms Center and Fort Leavenworth, for reappointment to the rank of lieutenant general and for assignment as chief of the Office of Security Cooperation – Iraq, a key military position as the United States continues to lessen its military presence in Iraq.
Obama's pick to replace Caslen is Army Maj. Gen. David G. Perkins, commanding general of the 4th Infantry Division (Mechanized) and Fort Carson, Fort Carson, Colo.
Caslen would lead the Office of Security Cooperation, which has been charged with providing protection to the U.S. diplomatic corps in Iraq as the draw-down of U.S. troops continues and the U.S. mission there transitions from a military effort to a diplomatic one, according to documents from the Senate Foreign Relations Committee.
Housed within the U.S. Embassy, the Office of Security Cooperation will provide logistical support for the Iraqi army, shore up administrative gaps within the Iraqi Ministry of Defense, and provide ''behind the wire'' capabilities to better enable the State Department to sustain its proposed mission, according to the Senate documents.
Caslen is has served as commanding general, U.S. Army Combined Arms Center and Fort Leavenworth since March 2010. He came to Fort Leavenworth after heading the 25th Infantry Division at Schofield Barracks, Hawaii.
Perkins, a graduate of the U.S. Military Academy at West Point, N.Y., and was commissioned in the Army as a second lieutenant of Armor in 1980. Throughout his career, he commanded at the company, battalion, task force, brigade, and theater level in Germany, Macedonia, Iraq and the United States.
In June 2008, Perkins became deputy chief of staff for strategic effects for Multinational Force-Iraq. In that capacity, Perkins also served as the spokesman for the Multinational Force.
He has led the 4th Infantry and Fort Carson since June 2009.
The U.S. Senate must first confirm the nominations, which were announced by Defense Secretary Leon Panetta.