Leavenworth County recasts net for administration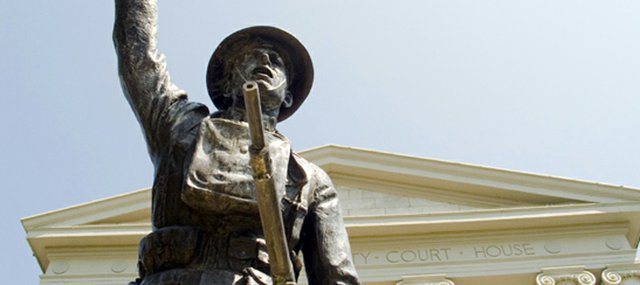 About three months after its first attempt to hire a county administrator ended without success, the Leavenworth County Commission will try again.
Despite the reservations of two of the three commissioners, the county will begin advertising for the position this week. The commission voted 2-1 Monday to post the vacancy again, with Commissioner Bob Holland voting against the motion.
Commissioner Clyde Graeber said earlier he would like to be cautious about hiring a new top appointed official for the county, but he would support the hiring because of a campaign pledge.
"When I ran for this office, I ran pledging I would support the position of a county administrator," Graeber said. "I feel obligated to complete that commitment."
He said he did not want to disrupt a good working environment among department heads, elected officials and other county employees that he had seen during the nine months the county has spent without an administrator.
"I just don't want to see someone coming on board that would destroy the willingness to work together for the good of our county because of overzealous boss-like tendencies," Graeber said.
He said he would plan to be careful to select an administrator who could fit in smoothly at the county courthouse. He added he was not trying to criticize Heather Morgan, who was hired as the county's first administrator in 2008 and left in October 2010 for a private-sector job.
Commissioner Bob Holland said Graeber's comments about the county functioning well without an administrator raised another question.
"Maybe we need to rethink whether we need a county administrator any longer," Holland said.
Commissioners had voted to hire another administrator in November, before Holland took office, though they did ask for Holland's input on the job description at that time.
In mid-January, shortly after Holland was sworn into office, commissioners began considering 60-plus administrator applicants, and they conducted their final interviews in late February. Two of the commissioners' top candidates for the job turned it down after negotiations, and another took a job elsewhere before any offers were made.
The plan approved by the commission Monday calls for the position to be advertised for 30 days before commissioners begin the hiring process. If they follow a similar timeframe the second time around, they may not hire a new administrator until September or October — nearly a year after Morgan resigned.