Pain and perseverance keys to Seaton becoming top Brave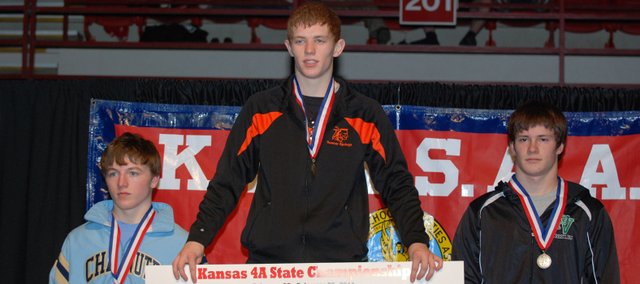 Bonner Springs High School has had its share of elite athletes through the years, but it's unlikely many were as resilient as Caleb Seaton.
For four years he was one of the state's elite lightweight wrestlers in constant pursuit of a state championship. As a senior, however, Seaton's arm was literally hanging on by a thread.
A shoulder injury required surgery, but Seaton refused. It would have forced him to miss his senior season and his last shot at a state championship.
Pain was his path to glory as he ultimately won a state championship and went on to be named Bonner Springs High School's Male Senior Athlete of the Year.
"That kid deserves it," BSHS wrestling coach Brandon Jobe said of Seaton going out on top. "The kid has put in the time, and he's gone through hell to get to where he's at. He deserves it."
FANTASTIC FRESHMAN
As a member of the Seaton family, Caleb Seaton didn't catch the BSHS wrestling program by surprise as a freshman.
His mom runs the Bonner Springs Wrestling Club, his dad is a BSHS assistant coach and his older brother Ian was a state medalist. In addition, his uncle was a two-time state champion for the Braves.
Simply put, the Seaton family and Bonner Springs wrestling go hand-in-hand.
Caleb Seaton was expected to make an impact as a freshman, and he didn't disappoint.
The 103-pounder took the program by storm, winning tournaments during the regular season and then earning a Class 5A regional championship before ultimately taking fourth at the state tournament in Hutchinson.
The rest of the state took notice, and Seaton spent the rest of his career in the state rankings. Seaton set his sights on winning a state championship, but what at the time seemed inevitable turned to be significantly more difficult.
NUMBER FOUR JINX
A fourth-place state medal was a fine accomplishment for Seaton as a freshman, but in the years that followed four was a number he came to loathe.
He competed in four sports during high school — one year on the track team, two on the cross country squad and four seasons of soccer to go with wrestling — and the number four followed him everywhere he went.
As a sophomore 112-pounder, Seaton won another regional championship and carried that momentum into state. He won his first two matches and reached the semifinals before losing. A victory and a loss in his final two matches earned a fourth-place medal for the second straight year.
As a junior 119-pounder, the story remained the same. Seaton won a regional championship. He then won his first two state matches before again falling in the semifinals. Another victory and another loss followed, securing him a third straight fourth-place medal.
What had once been a fulfilling accomplishment was now a nuisance.
"Yeah, it's pretty old," Seaton said of the string of fourth-place finishes.
SAME STORY IN SOCCER
Seaton vowed that his senior year would be different. The fourth-place jinx needed to end. It must.
But it didn't.
This time the sport was soccer. The Braves put together one of the finest seasons in school history, and Seaton played a big role as a hard-nosed defensive stopper on the wing. They carried a 15-1-3 record into the state tournament, but a pair of losses meant the Braves finished the season without a trophy.
Yep, fourth place.
"I hate it," Seaton said of the number that haunted most of his high school career.
PAIN AND GAIN
Seaton's last chance to avoid a fourth-place finish and win a state championship was his senior wrestling season. Now at 125 pounds, he was projected as one of the favorites to win the state title.
But this time there was a hitch. The wear and tear of wrestling had taken a toll on Seaton's right shoulder. He'd dislocated it numerous times, and the tendons were stretched so thin that it popped in and out of socket on its own. A hole was worn through his rotator cuff. When he moved it, bone grinded on bone.
Doctors told him to stop. Surgery was necessary.
"They told me it was going to be six months," Seaton said of the recovery time. "That wasn't going to happen. Not my senior year. I decided I was going to wrestle."
Initially, the decision to compete seemed easy for Seaton. He'd endure a little bit of pain and move onto the next tournament. As the weeks went by, however, the pain grew worse.
The large, black brace that wrapped around his chest and held his shoulder in place essentially was a giant bull's eye. Opponents began targeting the shoulder.
"As a coaching staff, we focused on the mental aspect of the sport with him this year, staying mentally tough," Jobe said. "Guys were attacking it, it hurt and it kept going out (of socket).
"Our attitude was, 'You know what, it is what it is. Deal with it. Some things in life aren't going to go your way, so deal with it.' And he did."
Seaton missed one regular-season tournament to rest the shoulder, but otherwise he was a mainstay in the varsity lineup. Regardless of if the pain was major or minor, Seaton persevered and won numerous tournament titles and added a fourth straight regional title to his resume.
Heading to state, only one number was on his mind.
"Nothing besides one," he said at the time.
Just like in previous years, Seaton won his first two matches at the Class 4A state tournament. Then came the moment of truth as he faced his historical exit point: the state semifinals.
Seaton battled Chanute's Tim Wrestler in a back-and-fourth match. Seaton eventually needed a two-minute injury timeout when the shoulder popped out of socket. It didn't look good, but he ultimately forced overtime before securing a 5-4 victory in a tiebreaker.
Barely 24 hours later, Seaton was involved in another wild finish. This time the opponent was Bo Newport of Prairie View. Seaton trailed late, but in the final 20 seconds he struck for a takedown and 2-point near-fall. Seaton held on for dear life and secured a 6-4 victory.
Fourth no more, Seaton was a state champion.
"It means a lot," he said after the match. "Walking into this tournament, I didn't really think I'd come out on top. I thought (I'd) maybe settle with third the way the shoulder's been acting up lately. I just went out there and wrestled with what I had left in me, and I guess it worked out."
LEGACY OF TOUGHNESS
Throughout his career at BSHS, Seaton never made excuses. He wasn't a big talker; he was a doer.
"He's not cocky," Jobe said. "He just goes out and takes care of his business, which as a coach is great to have around."
Two weeks after winning a state championship, Seaton went under the knife. The shoulder is healing, and he expects it to be ready to go when wrestling season begins at Fort Hays State University.
Seaton's wrestling story isn't complete yet, but his legacy at Bonner Springs is. He is a four-time state medalist, he's the Braves' first state champion since 2004, and he helped craft a "no excuses" attitude for a youth-laden Braves squad that finished fifth as a team at the state championships.
It's a lasting impact that made Seaton stand out among his classmates and made a lasting impact on Bonner Springs wrestling.
"His accolades speak for themselves," Jobe said. "His record, the awards that he's won, being a four-time state medalist and a state champion — he's the best athlete in that (senior) class. He has the most stats behind it. And then the rest of the stuff on top of it, what he went through this year with the shoulder … a lot of different things … he's well deserving of (the Senior Athlete of the Year award). Not many people can do what he did. A lot of people can talk about it, but doing it is something else."