PRIDE

recognizes more Basehor 'Yards of the Month'
Photo Gallery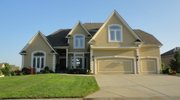 Basehor PRIDE Yards of the Month: July
Basehor PRIDE has honored additional residents with the Basehor Yard of the Month recognition for July, the first month for which PRIDE has awarded the honor in several years.
The additional July honorees are: Lee and Joanne West, 16806 Juniper Dr.; Nick and Kathy Saragusa, 2207 N. 154th Terrace; Marvel and Terrell Jackson, 14101 Nelson Court; and Ron Milbourn, 15608 Poplar.
To see the winning yards, see the photo gallery at left.