Thrift Store changes hours, hopes to boost business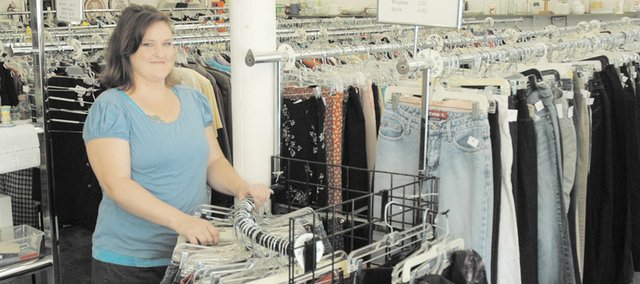 Jaymme Chilson is hoping to make sure more people remember there is a great place for good deals in downtown Bonner Springs.
The manager of the Vaughn-Trent Thrift Store has been making an effort in the past several months to make the store more shopper-friendly and spread awareness to combat a downward trend in sales in the past two years. As a part of that effort, beginning this week the store also is changing its hours.
Carol Geary, director of Vaughn-Trent Community Services, said the changes were necessary given the recent sales numbers at the store.
"The expenses are outpacing the income at this point," she said.
So the hours will change to help save some costs and draw in more weekday shoppers, and Chilson, who took over as the store's manager in September of last year, is taking other steps to boost business. The biggest physical difference is a cleaner, more orderly look for items in the store.
"I've been trying to organize and make it more friendly for the younger generation," Chilson said.
She thinks both a lack of organization that often required customers to "dig" to find what they were looking for, and older customers moving away from Bonner may be part of the reason why the store's business has fallen off in the past couple of years. Another reason she suspects may be younger families moving in aren't as aware of the downtown store as they are of the stores at Kansas Avenue and Kansas Highway 7.
Chilson also hopes to start advertising farther north in areas like Leavenworth, or even south in western Shawnee, to make sure families there are aware of the store.
"It's like I've told people since I started working here — we need to get the word out to the younger crowd that we're down here and ready to help out," she said.
Chilson said she hoped newer families to the area would understand that the profits of the store directly benefit those in need locally through Vaughn-Trent Community Services, and the prices are tough to beat.
"Compared to other thrift stores, we're the lowest prices in town," she said.
Donations have continued to be steady and high quality, Chilson said, though they are always looking for more. Donations can be made during store hours, as there is no after-hours drop box.
"We always have everything plus the kitchen sink," she said. "… You never know what you're going to find in here; we get new stuff every day."
But the most notable change for customers is the store's new hours. In addition to being closed on Sundays, the store now will be closed on Mondays, a decision Chilson said was made because several other downtown businesses are closed on Monday.
The store also will be open later on other weekdays, with hours from 10 a.m. to 6 p.m. Tuesday through Friday, as well as 10 a.m. to 3 p.m. on Saturdays. Chilson said when the store previously closed at 5 p.m., it didn't make shopping easy for those who work from 9 to 5 during the week.
Chilson hopes the changes will help boost the number of shoppers at the thrift store, which one might think would see improved sales given the economy.
"Business started going down with the economy and hard times," she said, "but people should know to shop here instead of the mall these days, because we have the name brands."