Burials honor Civil War, World War I veterans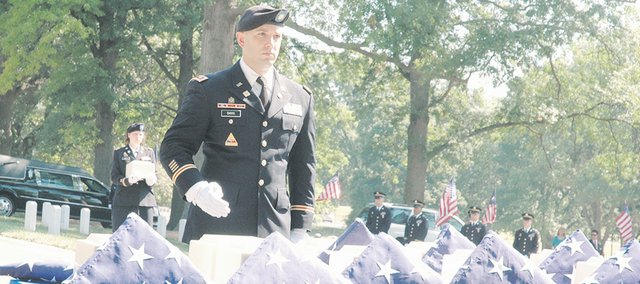 Sun Rodgers of Leavenworth and Betty Wright of Shawnee cried and clung together during funeral services Tuesday at Fort Leavenworth National Cemetery.
Buried with honor
The following are the list of World War I veterans and wives buried Tuesday:
• Lt. Col. Ernest Mark and wife, Frances Mark; both discovered by their daughter, dead of poisoning, on June 1, 1937
• Maj. Albert Duval; died in 1959
• 1st Lt. Charles Shumaker and wife, Alvira Shumaker; Charles Shumaker died in 1943; no date of death listed for wife
• Sgt. 1st Class James McDonald; died in 1951
• Sgt. Roy Robbins; died in 1952
• Sgt. William Kinney; died in 1932
• Pvt. John Carpenter and wife, Marnodie Carpenter; John Carpenter died in 1967; no date of death listed for wife
• Pvt. Cyrus Dorr; killed in action in 1918
• Pvt. John McFadyean; died in 1941
• Pvt. Ralph Lowe; died in 1960
• Pvt. Ralph Wilson; died in 1952
• Pvt. John Lawing; died in 1957
• Pvt. Jerome Joffee; died in 1953.
The two Gold Star Mothers didn't know the 14 veterans and three veterans' wives who were buried in a military funeral orchestrated by the Missing in America Project, but they said the experience was still an emotional one. It brought fresh to mind the sons they had lost — Sun Rodgers' son, Sgt. Ricky Rodgers, to an illness in 2005 while stationed at Fort Polk, La.; and Betty Wright's son, Pvt. Shawn Wright, to suicide in 1991 while home on leave.
Shortly after their deaths, Ricky Rodgers and Shawn Wright received appropriate burials with military honors. But the honors bestowed on the 14 veterans buried Tuesday were long overdue.
Pvt. George McCarthy served in the Civil War and died in 1946 at the age of 102. He was cremated and his ashes sat unclaimed in the storage of Missouri-based funeral home D.W. Newcomer's Sons for more than 60 years. The remains of the 13 other veterans, all of whom served in World War I, suffered a similar fate, having no one to claim them for decades.
No one, that is, until the Missing in America Project stepped in. The California-based national nonprofit organization works closely with funeral homes to verify and give proper burial services to the veterans left unclaimed by family members. Linda Smith, head of operations for the organization, says any given funeral home in the United States could have anywhere from 10 to 1,000 sets of cremains of veterans in its storage. Usually state laws dictate that funeral homes must hold onto cremains until such time as they are claimed, Smith said. It is the Missing In America Project's goal to claim and validate as many of these unclaimed veterans as possible, making sure each and every one is buried, with appropriate military honors, in a national cemetery.

But it's not an easy goal to achieve. Smith said it took about a year for the Missing in America Project to go through the process of proving the 14 veterans buried Tuesday at Fort Leavenworth were, in fact, veterans. She said funeral homes give Missing in America lists with names of those among their store of unclaimed cremains they believe to be veterans. Then Missing in America researchers must go through whatever records are available, using such means as genealogy websites and historical society websites, to prove their identities. Missing in America also works to verify the unclaimed cremains of family members of veterans.
Thus far, Smith said, the organization has been responsible for the burials of more than 1,000 veterans whose ashes were formerly unclaimed. She said the long process of getting them from the shelf of a funeral home to the ground where they should rightfully be is a rewarding one.
"It's sad that they are sitting in funeral homes, but when you find them it gives you a sense of accomplishment to get these guys honored like they should have been," she said in a news conference after Tuesday's services. Smith noted that all of those buried Tuesday came from D.W. Newcomer's Sons, which operates several funeral homes throughout the Kansas City metro area.
The mood during Tuesday's ceremony was somber and respectful, as honors were first bestowed on McCarthy, followed by the 13 World War I veterans and three wives. Posting of the U.S. National Colors was conducted by members of the Kansas National Guard. Civil War re-enactors then carried McCarthy's urn to the honors table, where military honors were performed by members of the Kansas National Guard, who slowly and methodically unfolded and re-folded an American flag. A gun salute was performed and "Taps" was played by Samuel Young, one of the re-enactors.
The re-enactors then transported McCarthy's urn to the selected gravesite.
A separate, but similar, ceremony for the World War I veterans followed and included words from guest speakers retired Lt. Gen. Robert Arter and Col. Roger Donlon.
The services were closed by William Owensby Jr., director of the Fort Leavenworth National Cemetery complex for the National Cemetery Administration and the Department of Veterans Affairs. He said his organization had been and would continue to work with the Missing in America Project to find and bury any and every unclaimed veteran throughout the country.
Following the services, and with tears still in her eyes, Wright talked about what seeing the veterans finally reach their final resting place at Fort Leavenworth had meant to her.
"It's always moving, it's always important that these honors are paid to whoever deserves them and to identify these soldiers from so long ago, and finally give them their due honor and respect, is just very emotional," she said.
Wright said she had just recently gotten involved with Missing in America herself as a volunteer, wanting to be a part of what she said was "finding these soldiers, veterans, that are right now, they're forgotten. And we don't want to forget anyone."