Caleb Johnson learned from the best, then became the best at
BLHS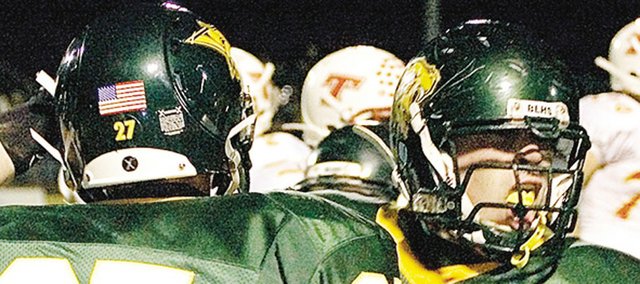 As a freshman, Caleb Johnson remembers football practice.
He lined up against former Basehor-Linwood High School lineman Ethan Douglas in practice each day.
Douglas, was a burly 303 pounds and a towering 6-foot-6, and he was well on his way to securing a roster spot at Kansas State — where he continues to play. Douglas was charged with teaching Johnson how to be a good football player.
The course took place one snap at a time.
"When I first walked in, I thought that dude is intimidating as hell," Johnson recalled. "He already had a scholarship to K-State. Being able to talk with him about the steps and things I needed to do really helped. Every day my freshman year, when I was behind him, I was doing the best I could do to make him better while he was helping to make me better. That meant a lot to me."
Johnson learned quickly and benefited from working with Douglas. He went on to be a three-year starter at left tackle, playing an integral player on an offense that put up record-setting numbers the past few seasons. First, he played a pivotal role in helping Brandon Leppke lead a run-oriented offense, and then Johnson was a key factor in this year's pass-heavy offense.
Johnson also was a standout on the other side of the line.
"He was just spectacular last year on defense," coach Steve Hopkins said. "To be quite honest, we are going to have to change some of the schemes this year because we do not have one person in the program who can command a double team each play like he did."
Johnson usually drew two blockers from opponents, which freed up the BLHS linebackers to run around and make plays.
He earned All-Kaw Valley League and All-State honors.
Johnson earned nine varsity letters at BLHS: four for football, two for golf, two for orchestra and one for powerlifting. For the body of work, he was named the Basehor-Linwood High School Male Senior Athlete of the Year.
The honor caught Johnson a bit by surprise when it was announced during the final week of spring classes.
"When they announced that I won it, I had no idea," he said. "I definitely didn't think I would win it. There were plenty of other guys in my class deserving of it. It was a big thing to win it."
Johnson grew up in Basehor, so he has a long familiarity with BLHS athletics and the athletes that have come before him. He said he remembered seeing the names of past winner's of the senior athlete award and wanting to join the list.
Now, he is a member of that select group.
"Winning it is a big sense of pride," he said. "But as far as going into my senior season, I didn't think about it once. My main focus was winning every game we could. For powerlifting or golf, it was about doing the best I could in those activities."
Johnson assumed a bit of a leadership role during football season. He worked with fellow senior Steyr Stubenrauch to develop a team motto for the season. During practice, as the team's only returning starting offensive lineman, Johnson worked diligently to help younger players in need of direction.
"This past year, I was like 'I need to step it up and be a better leader,'" he said. "I made it my focus to make it known that if guys needed help, I could help. I wanted to be an inspiration on and off the field."
For all the passion he had for sports, Johnson has chosen an academic course in college. He plans to attend the University of Kansas and study engineering.
"He is a top student and considered playing football at the next level, but he decided on the best engineering situation for him," Hopkins said. "He approached it in a mature way. He said, 'I want to be a student and devote myself to studies. I will be glad to be mentioned in his book on engineering."
Ross Schwisow was Johnson's strength coach during high school. He said Johnson worked hard to become an elite football player and all-around athlete.
"We use seniors a lot to show younger kids where they came from," Schwisow said. "I took a look at where he was as a freshman, and what he changed himself into. He deserves what he receives. He came in as a good size kid, but not strong with body weight yet. He put on good size and he was able to be an athlete with that size. Each kid has weaknesses; he had them, too. He got motivated trying to raise the standards. In the weight room, he became a leader. He was a verbal leader, and that was a good quality."
Johnson considered playing college football, but he thought that his long-range future made more sense without the game.
"I am going to miss it, of course," he said. "I had a few offers, but for me my biggest focus is to get the degree that I want. I obviously know I'm not going to go to the NFL or anything of that sort. For me, the biggest thing was I want to get my degree and in 20 years, I can have a job I'm satisfied with."