Philmont Adventure
Basehor Boy Scouts take to desert for hiking trip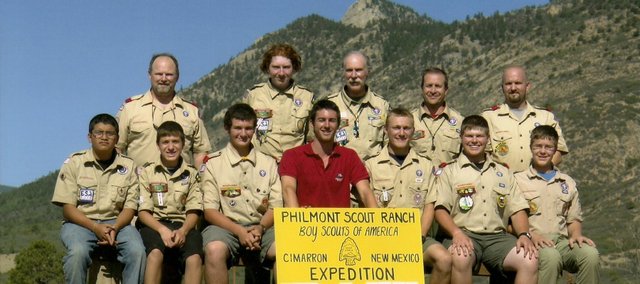 For nearly two weeks, a group of high-schoolers stranded themselves in the New Mexico desert, no way back to civilization but their own two feet. They were without beds, cell phones or showers, and one time ran, yelling, from a bear.
They paid $1,200 each for the privilege. And two weeks afterward, they said it was one of the best experiences of their lives.
For 12 days, June 24 to July 6, seven scouts from Basehor Boy Scout Troop 169, along with four adults, were on a roughly 70-mile trek through Philmont Scout Ranch, the oldest and largest scout base in the country. It was the troop's first-ever trip to Philmont, and it was about two years in the making, Scoutmaster Bill Brown said.
Basehor-Linwood High School students Skylar Ross, Colin Riley, Trevor Hickman, seniors in the fall; Spencer Brown, Alexander Coleman and Jefferson Storms, sophomores; and Andrez Umbenhower, freshman, made the trip.
The scouts spent each day hiking on dusty, rocky terrain, traveling an average of six miles in about eight hours, carrying their food, water and supplies in packs that amounted to 40- to 60-pound loads on their backs.
"It's the epitome of scouting," Jeff Storms, Jefferson's father and the crew adviser for the group, said.
To make the trip, scouts had to be at least 14 and meet conditioning requirements. The seven scouts who went managed to make the entire trek with little reliance on the adults who came along, Brown said. The scouts planned their routes, divided responsibilities and leaned on Skylar, who served as crew leader for the journey, for help and answers.
"As scoutmaster, I was immensely impressed with the way the boys handled themselves," Brown said. "You're in the backcountry. It's not like you're going to run over to the road and get a bus back."
Of course, the trek did not come without its difficulties, the scouts said. They had to adjust to using latrines, which were often a lengthy uphill hike from their campsite and lacked the privacy of bathroom stalls, Skylar said.
"You were sitting on a wooden box out in the middle of the woods," Skylar said.
The scouts also had to expend a great deal of effort protecting their campsite from bears each night, setting up "bear bags" containing anything that might attract the animals and suspending them from trees 15 or 20 feet in the air.
All the precautions did not stop them from encountering a bear, however. During one hike, Skylar and Colin came up a hill to find one about 10 or 15 feet in front of them. They yelled and ran, Skylar said.
"We did everything you're not supposed to do, pretty much," Skylar said.
During their long hikes, the scouts said they sang, spoke with funny accents and talked about what they would eat when they returned "to civilization," Spencer said.
"Some of us prayed a lot," Brown said to laughs from the scouts.
Many other times, they said, they were too tired or too awestruck by the mountain scenery to talk much. And there was rarely griping.
"I think we didn't have the energy to fight," Colin said.
On their next-to-last night before returning to the ranch's base camp, July 4, the scouts did not have fireworks, but they enjoyed the 360-degree view from perhaps the ranch's most famous landmark, a rock formation known as the Tooth of Time. They enjoyed a can of bacon, which they'd been saving since the beginning of the trip as they subsisted mostly on oats, granola, nuts and freeze-dried meals.
Skylar said that each night, the scouts would recall their day as they sat at their campsite in an activity called "Roses, Buds and Thorns." They recalled "roses," good things that happened; "buds," things they were looking forward to; and "thorns," bad things that happened.
"Overall, the roses definitely beat out the thorns," Skylar said, "and it was just an amazing adventure."