'

Pillers' of community prepare for store's changing of the guard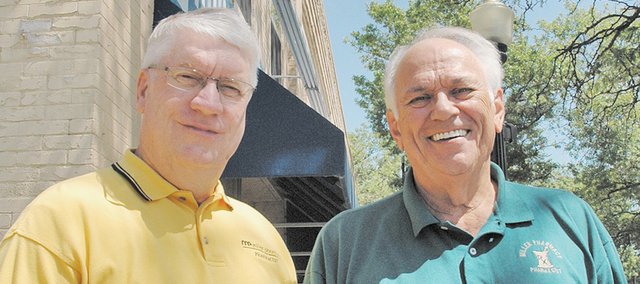 In April 1964, Roger Miller wrote to Carl Nash about purchasing his Bonner Springs pharmacy, Nash Rexall Drugs.
Nash wrote back using the same piece of stationery.
"Due to outside interests, I find it rough to take care of everything, so (I) think I shall sell the store," he wrote at the bottom of Miller's original letter.
With that, Miller arranged to buy the pharmacy sight unseen and made the move from Pratt to Bonner Springs. In the Aug. 10, 1964, edition of The Chieftain, the pharmacy's sale was announced to be effective on Aug. 17, with the headline "Drug store owners to change."
Now, almost exactly 47 years later, that headline could be repeated.
Effective Aug. 15, Miller Pharmacy will be sold to another locally-owned chain, DeGoler Pharmacy of Kansas City, Kan.
Miller and his co-owner, Larry Courtney, who joined the business in 1969, have already seen a lot of change in their nearly 50 years. Their hometown pharmacy has gone from the days of soda fountains — the Bonner Springs store's soda fountain was removed in 1975 — to today's competition with nationwide pharmacy chains.
Courtney said they have been considering options for selling the pharmacy for three or four years, knowing they were "getting up there in age." He said they previously had received an offer from a national chain to purchase the pharmacy.
"But we've had customers who are in the second or third generation of their families," he said. "These people have had the opportunity to go to a big box store ever since WalMart has been here, and we just didn't want to sell them down the road, so to speak — we wanted to sell to an independent and keep it independently run."
Looking back, the duo said they were happy with the way they ran the business and with their accomplishments.
Courtney, Miller and Don Wheeler, manager of the Bonner Springs store, have all earned the Kansas Bowl of Hygea award for community pharmacist of the year. Courtney and Miller are both past presidents of the Kansas Pharmacists Association, and Miller also has served as president of the American College of Apothecaries.
Courtney and Miller are also proud that they have inspired great employee loyalty — among several long-time employees, both Wheeler and Martin Theno, manager of the Edwardsville store, have worked for Miller Pharmacy their entire careers.
"So we figure we were doing something right," Miller said.
They have seen technology improve, margins of profit decrease and insurance and drug companies have greater influence over what prescriptions doctors write.
They have dealt with the loss of freedom of choice for their customers, as insurance companies require their beneficiaries to use mail-order services, as well as other cost increases.
"We're in a business where nobody wants our product — nobody wants medicine, wants to be sick, so it's a psychological thing," Miller said. "People will pay more to keep their car running than they will to keep their body going … Say their co-pay has gone up to $50 or something, (and they will say) 'Well, I'm just going to take half a tablet for a while and see how that goes.'"
Even with these issues and competition from national chains, some customers have remained loyal to Miller Pharmacy, both because of customer service and competitive prices.
"The prices we have really aren't that much different," Miller said. "With our buying group, we can buy as good as the chains."
Customers also appreciate the pharmacy's ability to special order items and provide small amounts of pills to tide them over until a mail order comes in, as well as its stock of products that chain pharmacies won't carry due to lack of sales. Services like free delivery and private charge accounts haven't hurt the business, either.
But Courtney and Miller also recognize it has been harder for independent pharmacies to stay in business. DeGoler's, which already has four locations, will be able to offer customers expanded services.
"You're almost at the point now, especially in a metropolitan area, it's hard for us to make it on our own — you almost need more stores," Courtney said.
When DeGoler's takes ownership, downtown Bonner Springs will see more than just a sign change. The pharmacy will move across the street, to 204 Oak St., where it will have about 1,000 more square feet of space. Another Bonner business, Sunflower Embroidery, is set to take over the pharmacy's current space.
"We have older people who come in here, and it's going to be a change," Courtney said. "But I think once it all settles in, it will be a good change."