KCK

's new stadium:

LIVESTRONG

Sporting Park to open June 9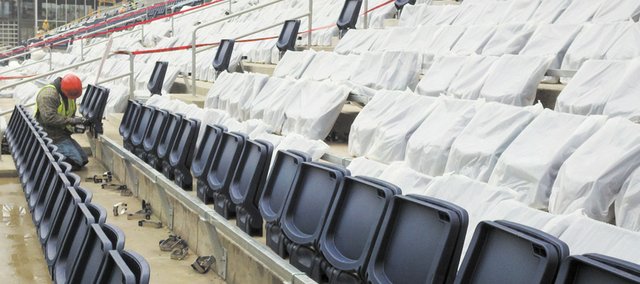 Sporting Kansas City is set to open its much-heralded new stadium, LIVESTRONG Sporting Park, later this month in Kansas City, Kan. Here, courtesy of sportingkc.com and livestrongsportingpark.com, is some information about the stadium.
Q: When is opening day?
A: Sporting Kansas City will open its brand new, state-of-the-art LIVESTRONG Sporting Park on Thursday, June 9, against the Chicago Fire. A limited number of tickets remain available for the inaugural match. Game time is 9 p.m. Farm Aid 2011 featuring, Willie Nelson, Neil Young, John Mellencamp and Dave Matthews on Saturday, Aug. 13, will be the first concert event at the new LIVESTRONG Sporting Park.
Q: What is the capacity of the park?
A: 18,467 for soccer and 25,000 for concerts.
Q: What's with the partnership between Sporting Kansas City and Lance Armstrong's foundation?
A: LIVESTRONG Sporting Park is the first philanthropic stadium in the world. A portion of all stadium revenues at LIVESTRONG Sporting Park, including ticket sales and concessions, will fund LIVESTRONG's work in the fight against cancer and lay the groundwork for developing local services for the cancer community in Kansas City. LIVESTRONG is the brand of the Lance Armstrong Foundation, created in 1997 by the cancer survivor and champion cyclist to serve people living with cancer and empower communities to take action.
Q: I read that a roof will cover all seats, but can I bring an umbrella if it's raining?
A: A canopy will cover every seating section. Umbrellas are not needed or permitted inside LIVESTRONG Sporting Park.
Q: Can you give me a fun fact about the stadium?
A: LIVESTRONG Sporting Park is the first MLS stadium fully lighted for HDTV.